10 of the most stunning places in the world to go skydiving
If you feel like experiencing something totally unique during your next skydiving trip, here are a few destination ideas you should keep on your radar.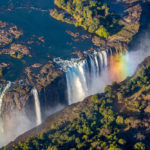 Although extreme sports are not for everyone, the images that emerge from these beautiful adventures leave no one indifferent. Faced with the beauty of our incredible planet, many thrill-seeking amateurs take advantage of their passion to admire the magnificent landscapes here and elsewhere all while pushing their limits. This is the case of skydivers who launch themselves from the sky to see the grandeur of our planet and nature's splendour. Of course, plunging out of an airplane is already impressive, but skydiving in one of these 10 places is likely to make your experience even more memorable.
Advertisements
St-François, Guadeloupe
Free falling directly above Guadeloupe's archipelago, skydivers can only marvel at the view by jumping from one of the Parachutisme Guadeloupe planes. It is hard not to fall in love with the lagoons and various tropical landscapes of this region.
Advertisements
Propriano, Corsica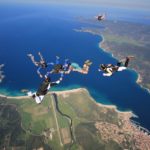 With nearly a minute in free-fall time over Corsica, adrenaline lovers will be satisfied. With the School of Skydiving Valinco, your small fears will become your most beautiful memories. With these very varied landscapes, this Mediterranean island will charm you by its sweetness and its purity.
Advertisements
Interlaken, Switzerland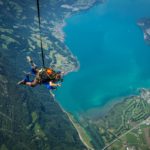 The city of Interlaken is a perfect place to fly! Enjoy the splendour of the Swiss Alps in both winter and summer. Jumping from a helicopter is a truly unique experience and your memories of this moment will stay with you forever.
Advertisements
Barcelona, Spain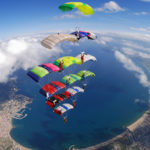 Whether you make your first or your 100th jump, the Empuriabrava experience will not leave you unsatisfied. Located in Barcelona, Spain, this skydiving area will make you see the Spanish region in a different light and will not disappoint you.
Palm Jumeirah, Dubai, United Arab Emirates
Located in the Persian Gulf, the artificial archipelago of Palm Jumeirah in Dubai has become a must when it comes to skydiving. Completed in 2009, this skydiving area offers an incredible view of the whole city. From the air, the 16 palms and the 11-kilometre crescent are truly astonishing and add value to your souvenir photos.
Victoria Falls, Zambia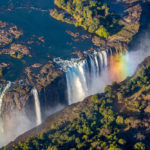 Victoria Falls is a UNESCO World Heritage Site. Being the largest water curtain in the world, this place is breathtaking because of its natural beauty. When jumping in this region, you will have the chance to admire the splendour of these gorges before jumping into the void, surrounded by the African wilderness.
Mount Everest, Nepal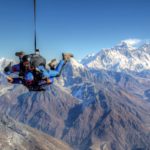 It's from a helicopter at 23,000 feet that adrenaline junkies can experience the Everest Skydive adrenaline rush. This unique adventure is unfortunately not available all year round. Indeed, it is only once a year for a few days that this event takes place which attracts enthusiasts from all over the world. With the view of the highest peaks in the world, the experience is certainly worth the wait. This year's jumps will take place on November 6th-16th, 2018.
Queenstown, New Zealand
Having received New Zealand's top tourism award, the NZONE Skydive company can boast of offering thrills to match their reputation. Located at the base of the Remarkables, an impressive mountain range, the company will make you live one of the most beautiful moments of your life and guarantees that your fear will never surpass your wonder.
Waialua, Hawaii, United States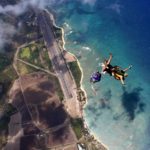 Located in Hawaii, Wailuku is the headquarters of Maui Island County. Known for its breathtaking scenery from the air, this region welcomes thousands of people who wish to live a unique skydiving experience each year.
Key West, Florida, United States
Descend at high speed under Florida's warm sun while discovering the landscapes of this splendid region. On the menu: exotic animals, breathtaking scenery and an extraordinary experience with renowned and passionate instructors from Skydive Key West.
Of course, there are several other interesting destinations for skydiving jumpers. Whether you are making your first jump or simply want to live a memorable experience, these 10 breathtaking destinations will satisfy you.
---
Cover photo credit: Sikeleli Africa Safaris