10 beaches where you can see impressive shipwrecks
From buried carcasses to shipwrecks washed ashore, these beaches will offer you impressive and out of the ordinary attractions you'll remember forever.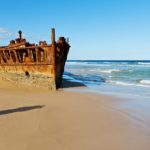 Relaxing on a beach is a very pleasant activity, even when we are travelling. The world is full of beautiful beaches, some more secret than others, which multiplies your chances to spend good relaxing and invigorating moments. Nevertheless, even when we are on a beach, we can still desire to go for a walk and in these moments, it's great to know that there are incredible attractions just a few steps away!
Over the years, unfortunately, several boats have run aground and some of their wreckage still dot the shore of many beaches. Having been shipwrecked for many years, these boats (or what's left of them) certainly add a special touch to these beaches. Here are 10 beautiful beaches where you can see impressive shipwrecks with your own eyes.
Advertisements
Peter Iredale shipwreck in Fort Stevens State Park, Oregon
In September 1906, the Peter Iredale began its journey from Mexico to Portland, but its adventure ended at Clatsop Beach, in the Columbia River. The ship was supposed to fetch wheat for the United Kingdom, but instead, it became one of the most popular tourist attractions in the region.
Advertisements
SS Maheno shipwreck, Fraser Island, Australia
Built in 1904, the SS Maheno served as a hospital ship during the First World War. However, a winter cyclone destroyed the vessel on July 9th, 1935, causing it to run aground on Fraser Island, Queensland. You should know that this island actually has 23 shipwrecks, but the SS Maheno is by far the most famous.
Advertisements
Bessie White shipwreck, Fire Island, New York
The Bessie White wreck is believed to have occurred in 1919 or 1922; historical records are conflicting in this regard. It was thick fog that led the Canadian ship to the shore of Fire Island on February 6th, early in the morning. The carcass of the boat had been buried under the sand over the years, but in 2012, following Hurricane Sandy, what remained of its skeleton resurfaced to the delight of tourists in New York.
Advertisements
MS World Discoverer shipwreck, Solomon Islands, Oceania
Built in 1973, the MS World Discoverer was a cruise ship carrying passengers to the polar regions. Unfortunately, its course ended abruptly on April 30th in 2000 when it ran aground off the Solomon Islands in the southern Pacific Ocean after striking an uncharted rock or reef which damaged its hull. It is on the outskirts of Roderick Bay, in the Nggela Islands, that one can admire this impressive shipwreck which, unlike others, is still in a rather good condition.
YOGN-42 shipwreck, Lanai, Hawaii
The north shore of Lanai Island in Hawaii is also known as Shipwreck Beach as it does have a dozen of them – some boats were even voluntarily abandoned there by 19th-century companies – making it a favourite place for tourists and artifact lovers. One of these wrecks is the YOGN-42 in Kaiolohia Bay. Resting in the water several meters from shore, the YOGN-42 is the first of several wrecks along the 9 km long shoreline.
Helvetia shipwreck in Rhossili bay, Wales
The most spectacular attraction in Rhossili Bay, Swansea, Wales, is undoubtedly the Helvetia ship wreckage, which has been lying there since its collision with another ship on November 1st in 1887. However, the Atlantic Ocean contributes to the erosion of Helvetia relics a little more each year, so it is likely that its remains will no longer be visible at all within a few decades. It is, therefore, a destination to visit quickly!
MV Panagiotis wreckage, Navagio Beach, Greece
One of the most famous beaches in Greece is certainly Navagio Beach, with its sumptuous shoreline and crystal clear water. Nevertheless, one of its most popular attractions is the  MV Panagiotis wreckage on the northwest shore of Zakynthos Island. It was in October 1980 that the ship took up residence there. There are several theories about it, but it appears to have been a smuggler's ship that had to anchor into the bay due to bad weather. According to the captain of the vessel, the vessel was then looted and an investigation was launched. When the captain returned to his vessel a few months later to refloat it, it is said that he was struck by the beauty of the rusty carcass and decided to leave it there. Not accessible by land, the beach where the MV Panagiotis lies is still worth a detour.
MV Captayannis shipwreck, Clyde River, Scotland
Known by the inhabitants of the town of Helensburgh as Sugar Boat, the MV Captayannis has been lying on its side for over 40 years in the middle of the Clyde River and is a well-known landmark. It was a violent storm that defeated the ship on January 27th in 1974 and despite the passage of time and the sometimes difficult Scottish weather conditions, the wreckage is still in good condition.
Eduard Bohlen shipwreck, Skeleton Coast, Namibia
The Skeleton Coast is the shore adjacent to the Namib Desert in Namibia. It is famous for having several shipwrecks, but one of them is particularly unusual: that of the Eduard Bohlen ship. The grounding of this freighter occurred on September 5th in 1909 at Conception Bay following thick fog. Since then, the 2,272-ton wreckage measuring 94 metres in length has been almost entirely buried in the sand, more than 400 metres from the shore.
Sweepstakes wreckage, Fathom Five National Marine Park, Canada
It is in northern Georgian Bay, in the Tobermory area, that we can find the completely submerged wreckage of the Sweepstakes, a schooner that sank in 1867 for a reason that still remains unknown. Placed in a vertical position at a depth of 10 metres, still in very good condition and having been substantiated to survive Canadian winters, the rubble of the Sweepstakes is the most photogenic and visited place in Big Tub Harbour. If you have always dreamed of scuba diving, this place is certainly a destination to consider.
If you want to enhance your beach day with the visit of impressive shipwrecks that add an undeniable je-ne-sais-quoi to their picturesque location, these 10 places are exactly what you need.
---
Cover photo: lkpro | Bigstock