Dark tourism: 7 unusual places to explore during your holiday
If you have always been intrigued by dark tourism, we suggest you discover some unusual places to visit during your vacation.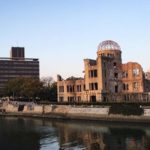 Dark tourism, also known as black tourism and grief tourism, is increasingly popular with travellers. This kind of tourism, which has been popularized by David Farrier's documentary television series Dark Tourist, gives travellers the opportunity to explore historical sites that have been marked by dark or macabre events such as the remains of a natural disaster. If you want to experience this type of tourism, here are some sites to visit.
Advertisements
Yingxiu 
Earthquakes are not uncommon, unfortunately. On May 12th, 2008, Yingxiu, located in China, was struck by a 7.9 magnitude earthquake. Although Yingxiu is the epicentre of the earthquake, the entire mountainous province of Sichuan was affected by the earthquake. As a result, approximately 90,000 people were killed in the natural disaster, including 5,300 children. Following this horrible tragedy, a monument representing a clock was erected in front of the remains of a secondary school. The sculpture indicates 2:28 p.m. because it was at this very moment that the first tremors appeared. Many dark tourism enthusiasts like to walk around Yingxiu and see the commemorative sculpture.
Advertisements
Hiroshima
Another place to visit is the Hiroshima Peace Memorial Park in Japan. This 122,100 m² park was created in memory of the victims of the Hiroshima atomic bombing on August 6th, 1945. In this park, you will find several monuments dating from before the bombardment as well as many sculptures erected after it. You can also see some of the remains of this tragedy, including the Genbaku Dome, a UNESCO World Heritage Site. According to UNESCO, "the dome has become a universal monument for all humanity, symbolizing the hope of perpetual peace and the definitive abolition of all nuclear weapons on Earth".
Advertisements
Auschwitz-Birkenau
Auschwitz-Birkenau is an extremely popular historical site for people who practice dark tourism. This concentration camp built in 1940 in Poland during the Second World War killed a massive number of people. It is now possible to visit Auschwitz-Birkenau as this site has been transformed into a memorial and memorial museum. UNESCO has also inscribed it on its World Heritage List because this place acts as a "duty of remembrance".
Advertisements
Karosta Prison
Another place that has been the site of several Nazi assassinations is Karosta Prison. It is not a simple museum, unlike Auschwitz-Birkenau. In fact, you can not only visit this former Latvian prison, but also spend the night there! However, if you want to sleep there, you will be treated like a real prisoner from the 1940s: you will spend the night on a thin mattress and pay to be subjected to verbal violence from the guards…
Ground Zero Memorial
Ground Zero in New York is one of the must-see places to see if you are a black tourism enthusiast. This is the site commemorating the attacks of September 11th, 2001. Located in Lower Manhattan, many people come to see this 6-hectare memorial every day. It is also possible to visit the Ground Zero Memorial Museum to learn more about the tragedy of the September 11 attacks.
Waterloo battlefield
If you listened at all in your history classes, you know that the Waterloo battlefield was the site of Napoleon's last battle on June 18th, 1815. This site offers you the opportunity to see this bloody war in several ways, including climbing the Lion's Hill, seeing the panorama – a gigantic painting – and attending one of the tours organized by the "Guides 1815". This is, without a doubt, a real step back in time!
Chernobyl
You have probably already heard about Chernobyl in Prypiat, Ukraine. It was a huge nuclear disaster that marked the course of history. In 1986, the cover of the fourth reactor of the Chernobyl power plant exploded after a series of explosions, spilling radioactive material into Ukraine and Russia. In all, more than 100,000 people had to evacuate their homes and many still suffer the consequences of these toxic fumes. It is now possible to visit some areas in Chernobyl. This is, of course, at your own risk…
We have introduced you to 7 of the most popular places for dark tourism. There are of course several other places that you can put in your bucket list if you are interested in this kind of tourist attractions. You can also experience other kinds of tourism and travel from romantic locations to adrenaline packed ones!
---
Cover photo: @lapstravel | Instagram