Glamping: the ready-to-camp formula, an accessible luxury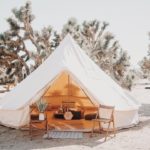 Advertisement - Continue reading below
Glamping has been trending for nearly a decade now. If you've never heard of it, it's never too late to discover glamorous camping, aka glamping.
This trend was born in the UK in 2007 and slowly made its way to North America, where it's becoming more and more popular. Doing glamping means going camping without having to carry all the necessary equipment while living comfortably. Are you intrigued yet?
\n
Glamping is the response to our nature deficit—the fact that we are spending less time than ever surrounded by nature. Even if we want to spend a few days in the forest or by the sea, we don't necessarily want to equip ourselves in camping gear. Or say goodbye to our comfort. Or surround ourselves with strangers on a campground. Once again, glamping is the solution.
Glamping is, in fact, a ready-to-camp formula, or turnkey solution if you will. This type of accommodation is already built, comes with comfy beds and more often than not everything you need to cook. The type of habitation varies, but most glamping constructions are made of wood, canvas or repurposed materials.
In Canada, ready-to-camp is available in all provinces and many national parks. On a global scale, glamping is everywhere in all sorts of weather conditions, from tropical rainforests to Scandinavian winters. Here are a few of its variations.
Advertisement - Continue reading below
Advertisement