The 11 most gorgeous secret beaches in the world to discover
Oasis of peace and well-kept secrets, these secret beaches are a dream destination for a romantic trip or a moment of relaxation in paradise.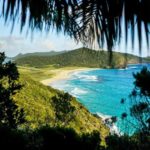 An excellent destination for total escape and relaxation, the beach attracts visitors from all over the world. It is therefore not uncommon for some of the most beautiful seashores to be overcrowded, noisy, and anything but relaxing. Fortunately, some corners of paradise remain a well-kept secret away from the influx of tourists in search of hot sand and turquoise water. These secret beaches are ideal for those who wish to enjoy an intimate experience or get off the beaten track. Here are 11 splendid destinations that have stayed secret so you can enjoy the beach in all quietude.
Advertisements
Makua Beach, Oahu, Hawaii
Don't forget your fins and snorkel before taking the road towards this remote beach on Oahu Island. Also known as Ka'ena Point, Makua Beach is the perfect place to dive and explore the caves and other wonders that lie within. The brave and thrill seekers can also dive off the surrounding cliffs and the lucky ones may swim with the dolphins. Difficult to notice from the road, the place owes its calm in particular to the few indications that reveal its location. A simple sign indicating Ka'ena Point means that you are only a tight bend away from this little corner of paradise.
Advertisements
Isla Bastimentos, Panama
Isla Bastimentos is one of the nine islands of the Bocas del Toro archipelago. Although this agglomeration off the east coast of Panama is full of magnificent stretches of sand, Isla Bastimentos stands out for the splendour of its beaches. A haven little known by tourists, the whole island is perfect for relaxation and heavenly holidays. Playa Wizard is a particularly beautiful and desert beach. More remote and accessible than on foot or by water taxi, Red Frog Beach is also a place to enjoy an unoccupied beach, but beware of the colourful and poisonous frogs.
Advertisements
Shipwreck Cove, Greece
This cove on the northeast coast of the Greek island of Zakynthos, also known as Zakynthos, is one of the most photographed beaches in Europe. The place known as Shipwreck Cove or Navagio Beach is simply beautiful and worthy of a secluded paradise. Despite its fame, this oasis remains little visited, since it is accessible only by boat. Far from being a chore and more an opportunity to explore the surroundings themselves of an absorbing beauty, the boat trip is undeniably worth it.
Advertisements
Lord Howe Island, Australia
This charming tiny island in the Tasman Sea in eastern Australia does not like to attract attention. The island of rare beauty is the result of a volcanic eruption over seven thousand years ago and is on UNESCO's list of World Heritage Sites. Cycling is the main mode of transportation and tourists are rare as the area has a limit of 400 visitors.
Koh Lanta, Thailand
Thailand's Koh Lanta district is only an hour's drive or motorboat ride from Krabi airport. This small lost paradise forms an island on which there are some nine beautiful little-frequented beaches. These pristine beaches are lined with a dense and magnificent fauna and a warm azure sea so you can swim all year round. Diving enthusiasts will also find a superb coral reef to explore.
Happy Bay, St-Martin
This seaside escape in the French part of the island of Saint-Martin is located not far from the famous beach of Friar's Bay which is all to its advantage. Smaller and less known, it takes advantage of the popularity of the nearby beach which attracts crowds. Happy Bay is just as beautiful and much less crowded, this is the place par excellence to enjoy the warm sand in all serenity. Getting there requires a nature hike on a rough road of about 15 minutes which is well worth it and which also contributes to the calm that reigns in Happy Bay.
Icacos, Puerto Rico
Puerto Rico has nothing to envy from Greece in terms of an uninhabited oasis. The island has its own deserted island, a fascinating and truly beautiful place. Whiter than white sand and beautiful turquoise water stretch not far from Las Crobas, a small fishing community not far from the city of San Juan. You will have to go there by motorboat and risk having the whole island to yourself. With no buildings or roads, it can be explored in an hour, but you may want to spend the day there.
Salema, Portugal
Flee the Algarve Coast and its many tourists to enjoy the beauty and calm of Salema. This charming little fishing village is only three hours from Lisbon and yet manages to escape the hordes of travellers despite its splendid scenery and its direct access to a magnificent and barely known beach. People passing through can also experience authentic Portuguese culture, cuisine and traditions.
Holbox Island, Mexico
Holbox Island and its sublime beaches are part of the Yum Balam Nature Reserve. Separated from mainland Mexico by the clear water of the Lagoon Yalahua, this approximately 40 km long harbour has several secluded beaches where you can enjoy the sun and the salt water peacefully. Without being particularly difficult to access, the place is considerably remote and thus requires several hours of travel initially by taxi, then by boat if you are getting there from the Cancún airport.
Kynance Cove, UK
This is not a mistake, this little piece of paradise of exotic appearance is indeed located in England, more precisely in the county of Cornwall in the southwest of the country. The white sand and azure sea contrast wonderfully with the cliffs, fauna and architecture of the continent and are among an expanse of beautiful beaches and seashores that cover this English coast.
Kelebekler Vadisi, Turkey
Also known as Butterfly Valley, this beautiful Turkish cove is home to not only a beautiful secluded beach but some 60 rare butterfly species. The place is difficult to access by land, however, visitors can get there by taking the Lycian Way, a renowned hiking trail of 500 kilometres that is among the 10 most beautiful hikes in the world. Those who want a faster and less demanding way to this oasis of peace can get there by boat.
---
Cover photo credit: jaxonark/Instagram