Top 10 prettiest apple orchards in the United States
Get your pretty wicker basket and pie recipes out, it's time to pick apples at some of the prettiest apple orchards in the United States.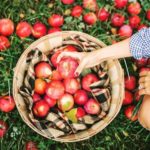 The arrival of September is synonymous with many things but for fall amateurs as well as epicureans, it is a great moment for harvesting. Arm yourself with a warm sweater and take the route towards the orchard since when the leaves start to show their pretty red, yellow and orange colours, apple trees are ready to be picked. Here are some superb apple orchards in the United States for apple picking and spending a nice time outdoors and harvest enough produce for your pies, doughnuts, crisps and applesauce recipes. Oh, and savour some cider.
Advertisements
Honey Pot Hill Orchards, Massachusetts
Located in the small rural town of Stow in Massachusetts, Honey Pot Hill stands out from other family-owned orchards with its three cedar labyrinths. The orchard, which stretches over 180 acres also includes an animal farm offering cart rides. An excellent destination to pick apples with your family and enjoy hot or iced cider and caramel apples.
Advertisements
Liberty View Farm, New York
The site is so beautiful that many couples decide to hold their wedding reception there during the summer season. This pretty little boutique farm in Hudson Valley is nothing like an amusement park but is a totally beautiful, rustic place to buy delicious organic apples grown sustainably. In order to offer more intimate apple picking, Liberty View Farm allows you to rent your own apple tree for the season. The place is also accessible a few evenings a week for picking apples under the stars.
Advertisements
Poverty Lane Orchards, New Hampshire
The nostalgic Poverty Lane Orchards offers you to go back in time with a selection of apple varieties from the 19th century. Like the orchards of yesteryear, more than half of their apple production is reserved for cider production. The place is worth the detour to discover unusual varieties of apples as well as to taste their unique ciders.
Advertisements
Westwind Orchard and Cidery, New York
West Wind is nothing like a conventional orchard. Besides the different organic fruit and vegetable varieties that are harvested (pears, berries, sweet herbs, squash and others) this site with a modern aesthetic and a bit of hipster-cool has an authentic pizzeria, a tasting room as well as a boutique. The place also produces natural ciders to enjoy at one of their lovely picnic tables and in front of a delicious wood-fired pizza, Italian tapas and even oysters during the weekly pop-up bar at the Brooklyn Oyster Party.
Shelburne Orchards, Vermont
This romantic orchard has preserved the rural aesthetic of the place very well. This charming family business in picturesque Shelburne, Vermont is an excellent destination to enjoy nature, pick your own food and enjoy apple cider doughnuts in a welcoming country atmosphere. Also a distillery, Shelburne Orchards produces apple brandy and Pommeau for sale on site. This is definitely one of the prettiest apple orchards in the United States.
Solebury Orchards, Pennsylvania
This beautiful orchard in Central Bucks County is the perfect place to go apple picking in Pennsylvania rain or shine. In addition to the great beauty of the facilities and its country charm, the lovely Solebury Orchards market is worth a visit. You'll find apples, peaches, pears, plums, apricots and berries, as well as many delicious by-products such as juices, applesauce, pie fillings and doughnuts. This sublime 80 acres orchard, in impeccable condition, will please the most demanding.
Sky Top Orchard, North Carolina
The very welcoming Sky Top Orchard bears its name well. Located over 800 meters above sea level on one of the highest peaks in the region, the orchard offers a magnificent view of Flat Rock, North Carolina. The site also includes some ponds popular with the goose and ducks and a bamboo forest. There are also activities for children and, of course, doughnuts.
Dwight Miller Orchards, Vermont
The Dwight Miller Orchards is a family business and a true hymn to nature. The orchard has been growing organic apples for 20 years. Forget the well-aligned rows and the mown lawn, this is the perfect place to enjoy what is closer to wild nature. While you're at it, don't forget to fill up on maple syrup and organic apple cider vinegar.
Fishkill Farms, New York
Fishkill Farms' beautiful orchard in Hopewell Junction, New York, grows organic and eco-certified crops on a beautiful and enchanting site. There is a wide variety of apples and an excellent cider made on site. However, the friendly orchard owes much of its reputation to its delicious cider doughnuts, considered by many to be the best in the region.
Mt. View Orchards, Oregon
Although orchards abound in the northeastern part of the country, the west has nothing to envy the latter and Mt. View Orchards is proof of this. Located in Mount Hood, Oregon, the 50-acre site is a beautiful place where you can see gorgeous mountains. The place also hosts several wedding receptions. So you can enjoy the view while filling up on delicious apples for your baked goods and snacks.
Don't be sorry to see the summer end, but rather rejoice at the arrival of autumn and, with it, the apple picking season. Choose one or all of the best apple orchards in the United States, grab a warm sweater and enjoy nature, apples and everything delicious you can make with them.
---
Cover photo: gowipeco/Instagram