Sri Lanka: Travel guide for the adventurous tourist
If you don't know what to expect in Sri Lanka, a beautiful country, here is a list of our must-see attractions to include in your travel itinerary!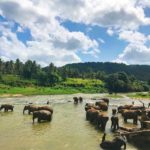 Sri Lanka is not necessarily the first travel destination that most people think of when it comes to going on holiday. However, it is a country with spectacular panoramas. The culture is also very interesting. Indeed, there are many ruins in this country, including those of Anuradhapura. Fans of thrills can also experience many sports such as surfing, rock climbing and scuba diving. If exploring South India is on your bucket list, here are some activities and sites to include in your trip.
Advertisements
Go explore the beaches of Sri Lanka
Sri Lanka is renowned for its heavenly beaches where diving and surfing enthusiasts can enjoy their favourite sport. To dive and snorkel, you should definitely go off Mirissa, although all the beaches in the country are perfect for these activities. However, the most beautiful waves for surfing are in Arugam Bay. It is not without reason that surfers from all over the world flock there every year to brave them. Among the most beautiful beaches to see, we also find those of Tangalla. We suggest you take a trip to Marakolliya Beach. This sublime stretch of sand offers you a moment of relaxation in front of palm trees, tropical flowers and mangroves. If you walk on the beach in the evening, you will probably have the chance to see sea turtles laying their eggs while the waves tickle your feet. A show you don't want to miss!
Advertisements
Visit the Anuradhapura ruins
As we mentioned earlier, the archaeological site of Anuradhapura is one of the must-see sites if you decide to go to Sri Lanka. Anuradhapura, which was the first capital of Sri Lanka, now looks like a gigantic museum where several ruins still stand today. Classified as a UNESCO World Heritage Site, this area will appeal to all history fans with its many ruins of sanctuaries, monasteries and palaces.
Advertisements
Observe wildlife as you've never seen it before
Sri Lanka has a very rich fauna and flora. You can go and observe it by trekking in the mountains or, even better, by taking part in a safari. Indeed, why not go and observe animals in their natural habitat? To do this, head for the gigantic Yala National Park. Book your safari, get in a jeep with other travellers and admire elephants, leopards and other wildlife in nature.
Advertisements
Venture into the caves of Dambulla
The Dambulla Caves, also known as the Golden Temple, should definitely be part of your travel itinerary. You will discover rock paintings relating the history of Sri Lanka as well as more than a hundred Buddhist statues from another era.
In addition to these activities, there are many other ways to explore Sri Lanka's nature and culture, including travelling by train and visiting a tea plantation. One thing is certain, you won't be bored in this country with its magnificent landscapes!
---
Cover photo: Rajiv Perera | Unsplash