Tourism in Belize: 8 good reasons to travel to this country
Tourism in Belize: If you are looking for a beautiful and exotic travel destination, you should definitely add Belize to your bucket list.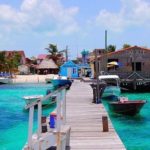 Tourism in Belize is increasing at a rapid pace and with good reason! This country, which is bordered by Mexico and Guatemala, offers those who venture there an impressive landscape with its sea, jungles and mountains, but also a very enriching culture that captivates those who take the time to take an interest. One thing is certain, you won't get bored in this Central American country full of Mayan temples. No matter what kind of traveller you are, you will undoubtedly find exciting things to do in this part of the world! Here are some good reasons to add this country to your bucket list.
Advertisements
Tourism in Belize: Belize City does not lack attractions
Belize City, a charming port city, certainly does not lack attractions with its large number of shops, bars, restaurants and discos. Feel free to walk through its streets to discover its colonial architecture and visit its cultural and historical centres. Be aware that you will also find, as in many urban centres, hotels where you can spend the night before exploring the surrounding nature reserves or diving, an activity very popular with tourists!
Advertisements
The Museum of Belize educates you about Mayan culture
As mentioned above, taking part in the cultural life of this country is well worth the trip. In particular, you can visit the Museum of Belize to learn about Mayan history and trace the important dates that have marked Belizean history. This museum takes place in the country's former prison. This establishment, which was completed in 1857, served as a prison until 1998 before being restored and transformed into a national museum. You will find, among other things, historical photos and documents relating to the history of the colonial era. You can also admire artifacts and Mayan sculptures.
Advertisements
The Altun Ha archaeological site is to die for
Once you have visited the national museum and seen the Mayan artifacts, why not visit the well-known archaeological site Altun Ha? This Mayan site, where ceremonies were held, covers nearly 10 km² and is extremely popular. Archaeologists have discovered many treasures, including a jade head representing the Mayan sun god that weighs 4.42 kg.
Advertisements
Beaches like Koko King are perfect for relaxing (or not)
This country also has splendid beaches where it is good to relax. One of the places you must absolutely go if you are in love with the sea is Koko King Beach. You will find enough pleasure to have a day that borders on perfection: a sublime panorama, a bar where you can grab alcoholic drinks when you feel like it, as well as a restaurant serving Caribbean food. What more could you ask for? In addition, if you want to spend several days at Koko King, you can always stay at the We'Yu Boutique Hotel, an establishment that just opened this year!
The caves to explore are well worth the trip
If you are passionate about speleology, you should know that there are several caves to explore which make tourism in Belize so appealing. Some will give you the opportunity to see underground waterfalls while others will allow you to observe stalactites, stalagmites and perhaps even human skeletons up close! If you are interested in this kind of experience, you can venture into the Che Chem Ha, Actun Tunichil Muknal or Blue Creek caves.
The Elijio Panti National Park is a must-see!
Belize has many nature reserves and also has a national park, the Elijio Panti National Park. You will find 18,000 hectares of greenery complemented by mountainous lands, rivers and waterfalls; in short, enough to please any nature lover. In addition to the trails in this national park, there are many interesting activities you can do such as horseback riding and camping.
The barrier reef is one of the biggest in the world
If you've always dreamed of scuba diving, don't wait any longer! Register for a course and jump into Central American waters. You can see Belize's impressive coral reef, which is, by the way, the third largest in the world. This ocean flora, composed of corals and fish of various species, attracts several hundreds of divers every year and will undoubtedly captivate you. Feel free to visit the famous blue hole, a cenote 300 metres in diameter and 124 metres deep.
Hopkins allows you to discover the Belizean culture
Hopkins is a must-see destination for anyone who wants to discover Belizean culture. Visiting this place with about 1000 people will give you the chance to taste traditional dishes and attend folk dances where percussion and drums set the rhythm. We suggest you take a walk along the beach and take the time to talk to the people who live in Hopkins; you will be touched by the friendliness of these people which are, for the most part, fishermen.
This country has plenty to satisfy travellers looking for sports or cultural activities. The landscapes of this travel destination are also breathtaking. Feel free to learn more about this region of the world and pack your bags for Central America!
---
Cover photo: Instagram @omazeworld