Travel guide: 10 things to do in Bangkok, Thailand
Bangkok is on your travel bucket list? Here are some spots to add to your travel itinerary to explore this part of the world.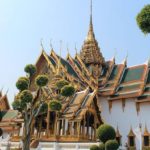 Bangkok is the capital of Thailand. It is famous for its lively streets, nightlife and floating markets. Its temples also attract many tourists each year. Bangkok, which is both a city and a province, has something to please travellers who love large urban centres and culture. If you want to explore an exciting and exotic region of the world, Thailand is the place for you! Here are 10 essential things to do in Bangkok, Thailand during your stay in this sublime capital.
Advertisements
Explore the Bangkok National Museum
It is always interesting to go to a museum, especially if you know very little about the place you are visiting. You can, therefore, explore the National Museum of Bangkok to immerse yourself in Thai culture, especially Thai and Asian art. Built in the 19th century by King Rama V, this imposing museum will allow you to discover a gigantic part of Thai history through Buddha statues, frescos and other ancient objects. Its galleries, divided into three sections (history, archaeology and art history, decorative arts) will undoubtedly prepare you to visit the splendid temples located in the capital.
Advertisements
Discover the city's Chinatown
Bangkok, like many major urban centres, has a Chinatown district. This neighbourhood is absolutely worth a visit. You will be captivated by the overwhelming atmosphere of its narrow streets where many shops and restaurants are located. We suggest you take a walk on Chinatown's main street, Yaowarat Road. This is where you can really feel the pulse of the neighbourhood. Also, take the time to stop at a local restaurant to enjoy an affordable seafood dish; you won't regret it!
Advertisements
Stop at the Wat Traimit
While you are in Chinatown, why not take a walk to Wat Traimit, a temple located near Hualampong Station and at the end of Yaowarat Road, home to the impressive Golden Buddha. This statue is the largest gold statue in the world with a height of 3 meters and weighing 5.5 tons.
Advertisements
Take a stroll in the royal palace
The former Royal Palace should also be part of your itinerary. To properly enjoy your visit to this landmark, try to find a guide. You will thus be able to walk around the rooms of this Thai palace built in 1782 by King Rama 1st. Know that in this palace there are not only several rooms serving the royalty but also Wat Phra Kaeo or the Temple of the Emerald Buddha. This Buddhist temple is one of the most important sacred places in Thailand and is home to the 26-inch high emerald Buddha carved in jade.
Get some fresh air at the Lumphini park

If you like parks, you must absolutely go to Lumphini Park. This park, which is similar to Central Park, consists of a gigantic green space and a lake. You can go for a walk or sit on one of the benches strewn along the promenade to devour a novel or watch passers-by.
Treat yourself to a moment of relaxation at the spa
Going to the spa is always pleasant. It is even more so when travelling! Why not enjoy a relaxing moment at the Mandarin Oriental Hotel spa? You will be able to receive treatments developed by traditional Chinese medicine specialists. Expect to receive massages, including some to counter jet lag, facials and mud body treatments, all in a peaceful environment. One thing is certain, you will certainly enjoy your experience in this spa that was awarded five stars by Forbes magazine in 2016.
Visit the Wat Arun
Wat Arun, also called the Temple of Dawn, is another place to visit during your trip. Located on the banks of the Chao Phraya River in the Bangkok Yai district, this monument is simply splendid to observe, day and night when it is illuminated. You will find golden Buddhist sculptures and several impressive mural paintings. It also serves as a lookout. However, to reach its summit, you must climb its numerous steep steps…
Visit Jim Thompson's house

Another place to visit is the home of Jim Thompson, an American entrepreneur and art collector. The man who was a silk entrepreneur settled in Bangkok after the Second World War. The house, which was built in the 1950s, is now a museum and contains several works of Asian art as well as the personal belongings of the man who mysteriously disappeared in the Cameron Highlands of Malaysia.

Shop at the Chatuchak market

Visiting the Chatuchak market is one of the top things to do in Bangkok, Thailand. Open on weekends, you can find everything: retro objects, handmade sculptures, animals, silk clothes, etc. Since this market attracts about 200,000 visitors every day, we suggest that you go early, around 10 a.m.
Be amazed at the Vimanmek Palace
You can also visit the Vimanmek Palace, a landmark built in 1901 in just 7 months! This palace, with 32 rooms, is the largest wooden monument in the world. You will be captivated by the splendid galleries of this palace, the woodwork and the many rooms renovated in 1982 by Queen Sirikit.
Thailand's capital is, therefore, a perfect place if you are looking to explore a colourful and urban place where culture is celebrated. During the day, you can visit the many temples and districts of this bustling city and, in the evening, go out to the bars where the night owls are found. In any case, you will certainly have great memories of your trip to Asia.
---
Cover photo: Instagram @travellingwithsmile