Travelling to Asia: 10 inescapable things to do in Japan
You wish to travel to Japan and immerse yourself in this beautiful Asian country? Here are 10 inescapable things to do in Japan.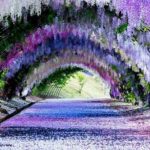 Japan is a popular travel destination for many people, and rightly so. This East Asian country has something to dream about with its ancestral culture, its historical richness and its breathtaking landscapes. There are obviously several things to do, each more impressive than the next. If you want to experience a memorable trip, here are 10 inescapable things to do in Japan you must add to your itinerary.
Advertisements
Go relax in the hot springs of Onsen
Japan is known for its hot springs. It is good to go and recharge and rest in these places where the water, which can rise to a temperature of 45°C, comes from volcanic springs. Unlike spas in North America, these are places where you can relax and talk. People wash in common showers and then enter, completely naked, indoor or outdoor pools. The experience is certainly worth it!
Advertisements
Explore the Tsukiji market in Tokyo
If you like markets, especially fish markets, you must absolutely visit the Tsukiji market in Tokyo. It is a gigantic fish and seafood market. You can buy tuna, but also crab, octopus, squid and shark pieces. It is the perfect place to enjoy fresh seafood or to discover exotic seafood.
Advertisements
Feast on delicious Japanese sushi
Japan is, of course, the perfect destination for sushi lovers. You can enjoy it in a bar outside the Tsukiji market or go to a high-end restaurant for a complete dining experience. According to an article in CN Traveler, Sukiyabashi Jirō restaurant in Tokyo is a must for anyone who loves this fresh fish dish. The establishment even served Barack Obama during his visit to Japan! This is probably one of the reasons why there's a documentary about this restaurant. However, expect to pay quite a large sum for your meal and have to reserve your place well in advance. In fact, this restaurant can only serve 10 people at a time. If you can't get a reservation in time for your trip to Japan, you can still enjoy sushi at Sushiya Ichiyanagi in the Ginza district, also located in Tokyo. Intimate and equipped with a Michelin star, this restaurant will undoubtedly satisfy your desire for sushi.
Advertisements
Visit the whimsical Wisteria flower tunnel
Japan is a place where the landscape is particularly beautiful. Imagine, then, when it is one with an architectural structure. This is particularly the case for the Kawachi Wisteria Gardens tunnel in Kitakyushu. This tunnel, which is completely adorned with wisteria, a kind of pastel-coloured vine, is simply sublime. However, we suggest that you visit Kawachi Fuji Gardens during the "Fuji Matsuri", the wisteria flowering period.
Visit the 
Aokigahara forest
You may know the Aokigahara Forest for its sinister reputation. Journalist David Farrier takes the time to explore it during his episode on Japan in Dark Tourist on Netflix. This is, in fact, the place where people commit suicide the most in the world after the Golden Gate Bridge. It seems, according to several Japanese people with great faith in spirituality, that the spirits of the deceased in this forest take possession of the trees, filling the territory with an occult activity. If visiting catacombs and cemeteries is something you are interested in, know that you can go hiking in the gloomy Aokigahara forest. Note, however, that you will not be able to use a compass if you need it: the strong magnetic iron deposits in the ground make their use totally unnecessary!
Marvel at Tashirojima, the cat island
If the Aokigahara forest is not your kind of place, you can always visit Tashirojima Island, a much less sinister and more pleasant place, provided, of course, you are not allergic to cats! Indeed, Tashirojima Island is a place where a large number of cats live. You will find few inhabitants there, as they have fled the island over the years as the cat population grew. Now, only about 100 people share the island's territory with the cats, feeding and caring for them, who are considered to be the bearers of luck.
Discover Buddhist temples
One of the essential activities to do during your trip to Japan is to visit Japanese temples. Among other things, you can discover Tōdai-ji, a Buddhist temple built in Nara in the year 728. Inside this wooden temple, you can find the Daibutsu-den building and the Great Buddha, a gigantic bronze statue measuring 18 metres and weighing 250 tonnes. Another temple to visit is Sensō-ji located in Tokyo in the Asakusa district near the Sumida River. The vibrant colours, the dragon carved under its lantern and the statues of Fūjin and Raijin will undoubtedly impress you.
Take a moment to go to the beach
To be swept away by the beauty of the Japanese landscape, why not take a trip to the beach? At Nishibama Beach, you can relax on the white sand while watching the bright blue sea waves. This small natural beach of one kilometre offers a paradisiacal view. Going to the beach is a mini-vacation from your travels and should absolutely be on your list of things to do in Japan.
Discover Japanese culture
To discover Japanese culture and history, what could be better than a visit to a museum? You can go to the Tokyo National Museum to see kimonos, Buddhist sculptures and samurai swords, among other objects. The museum includes a Japanese gallery and an Asian art gallery. You also have access to temporary exhibitions for a fee, but they are very interesting!
Go to a tea tasting
An essential activity to do during your trip to Japan is to drink tea. If you want to have an extraordinary experience, you can always follow an introduction to tea tasting with the tea master and former bartender Sakurai Shinya at the Sakurai Japanese Tea Experience. During this course, you will discover different types of teas as well as the particularities of their flavour combined with certain cakes.
So there are several interesting things to do in Japan, whether you like to discover new restaurants or venture into places full of mystery. Indeed, Japan is a country where all travellers benefit. When will you be leaving for this beautiful part of the world?
---
Cover photo: Instagram @sotdlive