Wellness retreats: 10 retreats to rejuvenate your body and soul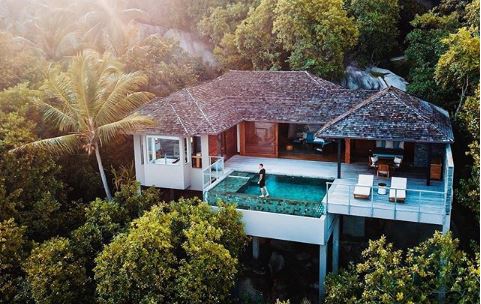 If you're feeling drained and your weekends never seem to re-energize you properly, we suggest you take a look at these 10 incredible wellness retreats.
You work 40+ hours a week, you juggle your time between your friends, your significant other and your family, you cook, clean, do the laundry… Does the list ever end? You're busy, really busy. There's no denying it, so when's the last time you took time for yourself to recharge your batteries and relax? If you're in dire need of a vacation, why not check out some wellness retreats online? These retreats, meant to rejuvenate and energize your body and soul, are sprinkled all over the world with incredible vistas, from mountains, beaches, deserts and countryside. Go alone, with your significant other or your bestest friends but just remember to relax and to enjoy yourself during your self-care holiday.
1

Fairmont Chateau Lake Louise wellness, mindfulness and yoga retreats (Alberta, Canada)
#4 according to our users
If you're not scared of the cold, why not spend your wellness holiday at the picturesque Fairmont Château Lake Louise in Alberta? In the heart of the Banff National Park, you will de-stress while admiring the Canadian Rockies and mountains that surround the beautiful hotel. Focused on mindfulness and yoga, consult their calendar to find the right time for you to visit this incredible place.
2

Monteverdi hotel and spa (Tuscany, Italy)
#8 according to our users
Have you always wanted to experience La Dolce Vita? Live your best Italian life by going to the Monteverdi hotel and spa in Tuscany's Val d'Orcia. If you love self-care, like facial and massage treatments that will soothe, invigorate, purify, relax and refresh your mind and body, then this is the place for you.  If you're a fan of cooking (and eating) Italian food, you can enjoy taking cooking classes and eating at their incredible restaurant where Giancarla Bodoni, the executive chef, creates fresh and heartwarming dishes.
3

The Retreatment by Taryn Toomey (all over the world)
#9 according to our users
With retreatments in different locations all over the world like Malibu, the Dominican Republic, Whistler, Vermont and Mustique, you know you'll come back home serene and full of self-love after experiencing Taryn Toomey's wellness holiday. No matter where the retreatment is located, know that you'll get to experience morning meditation, various classes given by Taryn Toomey, massages, hikes, yoga classes and eat delicious and healthy food.
4

Self-transformation adventure retreat (Londolozi Game Reverse, South Africa)
#3 according to our users
Of course, taking part in a wellness holiday is already an incredible thing to experience but a wellness holiday in a South African Game Reserve is a once in a lifetime experience. The self-transformation adventure retreat in Londolozi will help you feel serene and blessed to be visiting this spectacular place. With 5 camps spread out in the Reserve, you can experience safaris, yoga classes, massages therapy and various tours around the country.
5

Vana retreat (Dehradun, India)
#7 according to our users
India should be the ultimate place for a peaceful retreat… considering the Hindus invented yoga! Leave the hustle and bustle of the busy city and find tranquillity at the Vana resort. Located in the middle of a lush forest in Dehradun, Vana is for the sustainable and ecological minded person. The food they serve is as important as the treatments and the wellness journey you will experience while staying at the Vana retreat.
6

Maha Rose Center for Healing (all over the world)
#1 according to our users
This centre for healing, inspiration, creativity and transformation in New York City offers retreats in different parts of the world. The Maha Rose South retreat in Mexico and the Maha Rose North retreat in the Catskills offer different courses of various subjects like cultivating self-compassion and self-acceptance, being present, etc. They also have wisdom talks, private yoga sessions, reiki, acupuncture and breathwork. Whether you prefer the smell of pine trees or of salt water, you'll find the right retreat for you at the Maha Rose Center for Healing.