Beauty guide: Here's how to create a natural eye makeup look
A natural eye makeup is not only in fashion during the summer season. Here's how to integrate this trend into your daily life.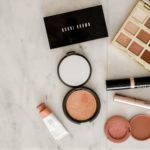 There are many beauty trends that have caught our attention, such as cool shades, glitter, multi-masks and two-tone makeup. Another trend that we are seeing more and more is a natural eye makeup look, also called the nude look. This very light makeup is very elegant and is just as suitable for work as it is for happy hour or a casual weekend outing. If you want to adopt this sublime trend, here is a beauty guide to follow.
Advertisements
First, take care of your skin
The secret to an impeccable natural eye makeup look starts with a perfect complexion. So it is important that you take the time, every day, to clean your skin and to remove all your makeup before going to bed. Even if you're exhausted, don't skip removing your makeup. Also, make sure you hydrate your skin, especially during the winter months.
Advertisements
Cover up skin imperfections
For a natural look, it is best to opt for a liquid foundation and to apply it with a brush. Using a brush will help create a flawless and natural finish without too much effort. Another product you should have on hand: concealer. You can also try contouring to define your cheekbones.
Advertisements
Add a little bit of a glow to your face
After applying your foundation, you can add a bit of a glow to your face by applying a bronzing powder and then some blush on your cheekbones.
Advertisements
Prep your eyelids
Unfortunately, no one can hide from eyelid creases. To cover your tired eyes and hide small imperfections, use a creamy eyeshadow primer that will keep everything in place for the whole day and prevent creases.
Try a nude smokey eye
For your nude look to be a success, you have to start by being sleeping enough. You need to have your 8 hours of sleep every night and use an eye cream to brighten those eyes. Once you are well rested, create a smokey eye with nude colours. You can, for example, use beiges, browns, golds or even light pinks. You can also do a light dark brown line with an eyeliner on your lash line and apply a bit of mascara to make your eyes look bigger. Add a bit of light gold eyeshadow in the corner of your eye to brighten up your look.
Groom your eyebrows
Many people tend to neglect their eyebrows but eyebrows, when properly groomed, can really shape your face. To have perfect eyebrows, brush them and then take an eyebrow pencil and fill them in with small brush-like strokes. You can add eyebrow gel or clear mascara to keep them in place.
Get perfect lips
To highlight your lips in a natural way, all you need to do is apply a gloss or lip balm. If you prefer lipsticks, you can always opt for nude colours, like a very natural and light pink shade.
These tips should help you get a natural eye makeup look without too much work and without spending tons of money on makeup. You can do this look quite quickly so you won't have to spend all morning in the bathroom. This is the perfect makeup look for women who are constantly on the go!
---
Cover photo: Photo by Element5 Digital on Unsplash