Business casual outfits: From shy assistant to CEO candidate
Hallways will become runways with these business casual outfits we selected for you. Fashionistas will have their needs met!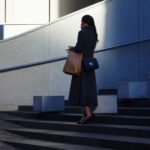 When you finish school and find yourself with a full-time job, you have to shop for some work-appropriate clothes. It's almost a rite of passage (for fashionistas, at least). Crop tops, ripped denim, leggings as pants, these are big no-nos when it comes to workwear. However, we are in the 21st century, after all, so scratchy skirt suits and unflattering pants you would never dare wear outside the office doors can stay out of your closet. Get inspired by these business casual outfits that are office-appropriate but that you'll still want to wear after 5 p.m. These chic looks will turn the hallway into a runway.
Advertisements
Slouchy strategy
An oversized blazer and loose trousers make this appropriate for a more formal office job but it also makes it cool with a corp twist if you work somewhere where people dress more casually. Obviously, a t-shirt, blouse or camisole needs to go under that blazer.
Advertisements
Cardigan supremo
Simple but very elegant, we love this look because again, it can be worn in pretty much any work environment. We suggest you wear a tight turtleneck under the cardigan or ensure it's mother-approved in the cleavage department.
Advertisements
Operation: Suitin' up
This matching blazer and trouser combo looks fresh and contemporary instead of drabby and unfashionable. We love the pop of colour of the sweater and socks. Who said suits were boring?
Advertisements
Opus in white
All white outfits look refined and sophisticated. Ensure you mix different textures like corduroy, silk, linen, denim, anything you like! Also, spaghetti is not a good lunch item on the days you rock this white look.
Sign here
Most start-ups and agencies don't mind if you wear jeans any day of the week. These flared and cropped black jeans are elegant and even though they are frayed at the bottom, it just makes them look cool and not inappropriate. We also love the casual dress that's been turned into a blouse.
Board of directors
Slouchy doesn't mean unprofessional. The belted pants add structure to the oversized but pretty knit sweater. Your grandpa's sweater just got a serious upgrade.
Labour intensive
Long jumpsuits can be great items to wear at work. Wear them alone or add a turtleneck under during the colder months as shown below. With sneakers or ankle boots, this look will be a hit with your coworkers.
Line of work
Even though this dress is form fitting, it's office appropriate because of the length and the round and high collar. Add a sweater or cardigan in the winter or if you want to fake a skirt look or wear with white sneakers or sandals in the summer.
Button up
The dress alone doesn't scream workwear but paired with a long-sleeve shirt, turtleneck or even chunky sweater, this dress becomes a board meeting staple. Don't be afraid of experimenting with colour. Rock that mustard yellow!
Black asset
Black is a great colour for any occasion. This all-black ensemble works well for 9-5 and can be easily transformed into your happy hour attire with a swipe of red lipstick.
Networking opportunities
It is possible to wear a mini skirt at the office. Keep your top ladylike (long sleeves, round collar, etc.) and make your look more casual with flats or sneakers instead of wearing the skirt with high heels.
Prairie 2.0
Blouses are always a hit in the corporate world. This suede mini skirt and white blouse combo looks chic and understated.
Fuzz Inc.
A party on top and business on the bottom! The midi skirt adds a nice ladylike touch but the burst of colour on top shows off your killer personality.
Walk of life
A skirt with a high slit could seem like an inappropriate item of clothing to wear at work but paired with low-heeled boots and a long, demure turtleneck sweater, the skirt just looks cool and fashion forward.
Wrap boss
Wrap dresses and skirts should definitely be included in your officewear must haves. A fun and colourful blouse adds whimsy to a basic camel skirt.
Get inspired by these business casual outfits you can wear from Monday to Friday. If you love fashion and you're creative, your workplace is a perfect place to show off your personality to make you shine. Who knows, wearing something you love and feel confident in could motivate you to speak up during important meetings or even ask for a raise (you obviously deserve)!
---
Cover photo: Rose Lamond | Unsplash