Cannabis skincare products: Is the CBD beauty buzz worth it?
Cannabis skincare and makeup products might just be the answer to your skin's needs.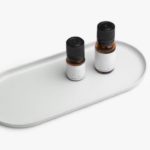 Colorado, California, Oregon, Vermont and even Canada have legalized weed. Most are aware of the benefits of medical cannabis on medical patients but CBD (cannabidiol) can do more than just temporarily relieve pain. More and more beauty-related companies have embraced the cannabis wave by creating products infused with CBD. CBD oil, for example, can help with anxiety, muscle relief, insomnia and was just approved by the FDA to treat epilepsy. It is important to note, however, that CBD does not get you high, THC does.
Makeup and skincare brands have also jumped on the cannabis bandwagon and boast its wrinkle smoothing, pimple eliminating and skin moisturizing properties. We scoured the internet the find cannabis skincare products you can use pamper your skin and relieve it from any stress.
Advertisements
The Daily Hit by CAP Beauty
Instafamous, CAP Beauty's The Daily Hit has conquered the hearts of social media fans thanks to its cute packaging and no-nonsense marketing tactics. This CBD oil will cost you though since one bottle of the good stuff retails at $105. Just take half a teaspoon every morning or blend it into your favourite smoothie or green juice to reap the benefits with its anti-inflammatory, focusing and energizing effects.
Advertisements
Hello, Calm by Origins
A cannabis face mask will make you relaxed but not in the normal "smoking weed" way. The oil from the cannabis sativa seed hydrates, softens and calms the skin. After a stressful day at work, slather on a thick layer of this green stuff on a clean face, draw a bath and enjoy its relaxing properties.
Advertisements
Kush Mascara by Milk Makeup
We love Milk Makeup for their vegan products and their colourful, millennial-friendly packaging. The Kush mascara creates voluminous lashes and the plant-derived oil formula hydrates the lashes so you never have to deal with dry clumps messing up your look.
Advertisements
Plant Protein + Gut Food by The Nue Co.
Healthy, beautiful glowing skin starts on the inside. The Nue Co.'s vegan Plant Protein + Gut Food is packed with organic peas, hemp and brown rice protein to ensure a healthy gut. One serving is equal to eating two eggs protein-wise and all you have to do is stir the good stuff into water, almond milk, a smoothie or even yogurt.
Bath Salts by Vertly
Taking a bath after a long walk in the winter or after a stressful day at work can do wonders for your morale. Add a handful of Hemp CBD Infused Bath Salts from Vertly to your hot bath to clear your mind from any daily stress you're experiencing. The CBD won't get you high of course, however, it will calm, soothe, and reduce tension your body is dealing with.
CBD Infused Body Bar by CBD Skincare Co.
It smells delicious (pumpkin spice enthusiasts will be pleased), it does wonders for dry skin and can even help with skin conditions like eczema, psoriasis and rosacea.
You don't have to smoke weed to appreciate the benefits of CBD. Cannabis skincare and makeup products help to heal, soothe and repair skin that needs extra help. Taking a CBD salt bath or washing your skin with a cannabis oil soap won't get you high but will make you just as calm and serene.