10 cheap clothing websites for great fashion at low prices
Need to renew your wardrobe but limited by a tight budget? Here's where to shop for some serious fashion statements without breaking the bank.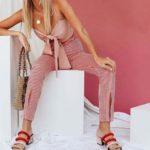 No need to spend thousands to dress well. The internet is a broke fashionista's dream. From the perfect neutrals to statement pieces, one can find anything their heart – and wardrobe – needs and desires at low prices. You simply have to know where to look. You don't? Have a look at these 10 cheap clothing websites to look your best without breaking the bank. Affordable fashion is virtually at your fingertips.
Advertisements
Asos
This online British store is the destination for the latest trends for both women and menswear. The great quality-price ratio makes it the perfect place to shop for statement pieces and passing trends that you'll wear only for a few seasons. But that doesn't mean you won't find some nice basics to add to your shopping cart among ASOS' impressive selection. See something you love? Order it quickly, because chances are you'll blink and your size will be sold out.
Advertisements
Uniqlo
Uniqlo does affordable casual-chic like no other. The Japanese brand makes perfect relaxed weekend apparel, work appropriate basics as well as sportswear. You can even dress the whole family with their cheap but quality pieces as they offer women and men clothing and accessories as well as kids' and babies'. That means you'll only have to cover shipping fees once.
Advertisements
Pretty Little Thing
This one is for all the ladies who like to make a splash and have fun with their outfits. This clothing website offers trendy and often sexy apparel for all shapes and sizes. With its very feminine, glitter-positive and often form-fitting pieces, Pretty Little Thing is a girl with a tight budget's best friend to hit the town and catch the eye. The online UK-based retailer isn't just bodycon dress paradise, their more laidback streetwear clothes are worth a look.
Advertisements
Lulus
From glam to cosy, Lulus covers it all. But most of all, the Califonia-based online store is the destination for everything cute. Shoes, coats, jewellery, formal dresses, bags and all things in between, no matter what you are looking for, chances are Lulus has it in a quality and low priced version. From sophisticated to fun and casual, Lulus brings you luxury in its most affordable form.
Mango
Mango recently got a facelift just at the same time as it went through an identity crisis and the result is a transformation for the best. The Spanish retailer definitely stepped up its designs and quality while keeping its prices relatively low. While items might not be as affordable as the previous stores, Mango apparels are well worth the extra penny. For elegant and refined pieces to complete your wardrobe without breaking the bank, take a look at what Mango has to offer.
Missguided
Seemingly, Britain knows how to do cheap and stylish streetwear online clothing stores. Missguided is yet another destination for colourful apparel for women with character and style. Tall, petite, curvy, lingerie, nightwear, outerwear and shoes add up to the large inventory of glam, street and trendy clothes. Missguided dresses feisty women who like to have fun and express their personality through fashion without going broke.
Storets
Fresh and playful with a touch of sophistication, Storets dresses empowered women who like to have fun. Find original items, statement pieces, feminine attire and perfect simple basics at extremely reasonable prices. Storets' fashionable, never tacky, but rather elegant apparel will do your wardrobe and wallet good. The American online store is a must among cheap clothing websites.
Stylenanda
Korean cosmetics has already taken over the world and, considering online boutiques such as Stylenanda, the nation's fashion might soon follow. Extremely affordable, yet high quality, the website offers comfy and stylish apparel for daring women. From perfect casual garments to feminine items and more refined everyday pieces always with an edge, Stylenanda's constant flow of new arrivals never disappoints. And while roaming their exclusive clothes selection, why not have a look at their beauty section…
Vergegirl
Planning to escape and in need of some serious summer, boho, frilly and light vacation attire in which to be and look your best feminine self? You can stuff your suitcase and still fill your fridge for the week with a trip on Vergegirl's online store. The American company offers fresh, sexy, refined, stylish and unique pieces for the modern woman who likes to feel the sun on her skin.
Good news! You don't have to worry about your bank account to look and feel your best in new trendy or timeless pieces. You don't even have to leave to comfort of your home! You can find stylish blouses, skirts, jeans, sweaters, dresses and every clothing trends of the moment to fill your wardrobe online at good prices. So get started on signing up for a Paypal account if you don't already have one and shop these 10 best cheap clothing websites that won't make you go over budget while looking like a million dollars.
---
Cover photo credit: vergegirl | Instagram