Jumpsuits: A versatile and fun wardrobe staple
Part dress, part pants, jumpsuits are the ultimate in-between.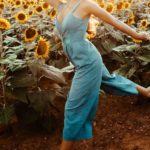 No longer associated with prisoners or house painters, jumpsuits, or one pieces, are a must for any woman who considers herself a fan of fashion. Part dress, part pants, this item is both versatile and super easy to wear since all you need is that one item on your back to create an outfit. Whether you have 10 of them in your closet or you just looked up "jumpsuit" on Google, we've found some of the best jumpsuit looks to inspire your next fashion-forward outfit. You're welcome!
Advertisements
Afternoon BBQ ready
Loose fitting, you'll be thankful you wore it after eating your third veggie dog.
Advertisements
International ties
The front peekaboo and fun pattern will look great against a white sand beach. Just saying.
Advertisements
No sleeves, no problem
Wear it alone or put a t-shirt under this jumpsuit for a totally different look.
Advertisements
Easy to spot
Cropped and cute, this one piece will be your summer go-to outfit.
No funny business
Structured and tailored, it is work and play appropriate.
Canadian Tuxedo's cousin
Tired of wearing a Canadian tuxedo? Switch it up and try a denim jumpsuit.
Made for the market
This linen jumpsuit + a wicker basket = the best flower market look.
Ruffled around the edges
The ruffled bottom of this one piece makes it perfect for a night of dancing and having fun.
Feelin' the breeze
Beachwear has never looked so comfortable and fashionable.
Warmer days ahead
Feel the heat with this bright and festive number.
Marilyn called, she wants her jumpsuit back
A little old-fashioned but still totally contemporary, this is a jumpsuit Marilyn Monroe would wear today if she was in her 20s.
Won 'Most likely to be a famous artist' in high school
Not for everyone, this jumpsuit is loud, colourful and fun. Get matching a matching jumpsuit with your BFF and go out on the town.
Watched too many French New Wave movies
Suiting up façon jumpsuit.
Black and white is not boring
Attending a wedding? Anniversary? Work picnic? Boozy brunch? This jumpsuit will work for any occasion.
As you can see, jumpsuits are far from drab or boring. Pair your one piece with cute sneakers, sandals or even boots to change up your look depending on your mood (and the weather!).
---
Cover photo: Blake Cheek | Unsplash