Summer sandals: Kick off the season with stunning options
Ditch the boots, loafers and sneakers for these stunning summer sandals.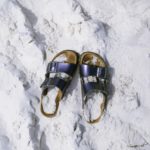 Blessed with gorgeous sunny weather all year long? We are (extremely) jealous of you. Alas, we must wait for May or sometimes June to show off our pasty legs and feet, which haven't seen the light of day in almost a year. Wearing sandals during the hottest months of the year is a must to keep you cool and show off that pedicure. Those looking to add some newness into their summer wardrobe will love scrolling through our favourite summer sandals. From sporty to girly, these stunning options are sure to add a spring in your step!
Advertisements
Mules
We adore mules, whether they are closed toe or in sandal form. Sophisticated, versatile and chic, we love the shape and look it gives our ankles. High or low heeled, mules are always a good choice.
Advertisements
High-heeled sandals
A classic choice, high-heeled sandals with a thin heel will make you look taller and leaner. Trendy and sexy, these transparent ones will look great with your tanned legs.
Advertisements
Platform sandals
Shorter ladies will love the added inches these platform sandals bring. Easier to walk in then you might think, we can already see these worn with a fun and flirty summer dress.
Advertisements
Strappy sandals
Nostalgic women who adore 90s fashion will absolutely want a pair of these strappy sandals perfect for the warmest of days. Your sweaty feet will thank you.
Sandals made for long distances
We love a summer sandal with a heel but like most women, we can't walk all day in heels without cursing the entire planet. Leather sandals like these from Birkenstock are super practical and (most importantly) comfortable so you can explore the streets… bandage free.
Sporty slides
It's so easy to slip in and out of these athleisure inspired slides, you'll probably wear them as summer slippers inside and casual summer sandals out.
Clog sandals
Clogs are not for everyone but women who like to experiment with fashion are sure to love these. Paired with a prairie-inspired white dress in the day or some dark skinny jeans in the evening, clogs elevate any look.
Slides
A little more elegant than the sporty slides, these leather or canvas sandals look great with your favourite cut-off shorts as well as a midi skirt or flowy dress.
Buckled sandals
Comfortable, casual but cute enough to meet the new in-laws, buckled sandals should definitely have a spot in your wardrobe. These summer sandals will keep your feet fresh and looking cute in the day and at night.
Something for everyone, for any occasion, these summer sandals will follow you on all your adventures this summer.
---
Cover photo: Natallia Safonava | Unsplash