7 types of dresses for all occasions
Forget about pants or skirts, dresses are the way to go winter like summer. These 7 types of dresses will take you from the boardroom to the dancefloor!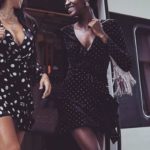 There are many occasions to wear a dress i.e. whenever you like, but we will admit that sometimes we wished we would have had a ball gown or a mini bodycon number in our closet. From light linen day dresses to velvet floor-length gowns, the 7 types of dresses below should absolutely be in your closet.
Advertisements
'I woke up like this' dress
A t-shirt dress is a perfect casual 'everyday' outfit. You can dress it down with sneakers or dressed up with strappy heels or ankle boots. Feeling thrifty? Just wear your boyfriend's plain black or grey XL t-shirt as a dress!
Advertisements
Closet MVP All-Star dress (Little black dress)
An LBD is a must in any woman's closet. Any occasion that arises, whether it is drinks and cocktails with a date or a best friend's birthday extravaganza, your little black dress will always be a great option for a night out. Mini, midi or maxi, choose a black dress that makes you feel comfortable and sexy!
Advertisements
Elegance exuding dress
Short women might not love the maxi dress since it can sometimes swallow them whole but there are ways to adopt this look without looking like a parachute canvas. Silky and body-hugging maxi slip dresses, for example, are a perfect solution. If you were blessed with long legs, anything with a slit is a great way to show off some leg!
Advertisements
Invites-only dress
You need a dress you can wear when you get invited to a secret society's annual ball… or a chic event that is a bit more probable. These types of dresses do come in handy for weddings, anniversaries or even Vegas trips!
CEO approved dress
You have a dress for your weekends at the farmer's market, you have some for your GNO on the town, you now need a few work-appropriate dresses. Neutral colours, minimalist designs, clean lines, these dresses might not be the wildest ones in your closet but they look great on a young CEO taking the business world by storm.
Catching rays dress
It's not summer if you're not wearing a sun dress. Easy, fun, flirty and girly, these beach-friendly numbers look as good on the seashore as they do in the concrete jungle. A little more sophisticated than the t-shirt dress, this is your my-crush-finally-asked-me-out first date look.
Saturday night dress
Made to dance the night away, these pretty little things will turn heads! Pair them with some heels to show off those legs. Heading out to a club hopping night out in the deep of winter? Add some sheer black tights for a (minuscule) additional layer.
Dresses are versatile, feminine and an absolute must in any woman's closet. You don't have to spend your life-savings on 700 different types of dresses but be smart when you're shopping and think of at least three different events you could wear this dress to if you're thinking of buying it. If ever you are in doubt, bring your fashion-obsessed friend with you to shop!
---
Cover photo: @topshop | Instagram