Self tanners: Never look orange again with these self tanning products
Self tanners used to be a nightmare waiting to happen in a box. Fortunately, the sunless tanning technology has evolved and orange skin is no longer the norm.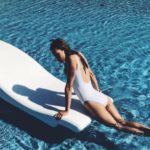 Unless you live in sunny California, Miami, the Carribean or Abu Dhabi, there's a chance you get pretty pale during the winter months. Getting a bronze goddess-like complexion is now more achievable and won't damage your skin like the sun does. From mousses to gels and creams, here are the top self tanners to fake an endless summer glow.
Advertisements
James Read
James Read's line of self tanning products will transport you to a coconut filled desert island with its delicious and enticing smell. The Sleep Mask Tan Body dries immediately and the colourless formula allows you to sleep in your white sheets without worrying about staining them. Just apply it after exfoliating your body and you'll wake up with a gorgeous glow.
Advertisements
Coola
This mousse not only gives you a pretty healthy tan but it also makes your skin look smoother and firmer. You can use this mousse on both your face and body and since Coola uses organic products, you can feel good on the inside and outside when applying this product to your skin.
Advertisements
St. Tropez
One of the better-known self tanner brands out there, St. Tropez has a range of products to fill all your self tanning needs. Whether you prefer express formulas or more gradual ones, your body will glow as though you've been lounging around on the beaches of this Côte d'Azur town for the past week. Bonus: Most of St. Tropez's formulas are vegan.
Advertisements
Isle of Paradise
The self tanning drops by Isle of Paradise are great since they were designed to be used with your normal moisturizer and serum. The concept is simple: you control your tan. The more drops you add, the deeper your tan will get. All of Isle of Paradise's tanning products are vegan, which means you never have to choose between your principles and a pretty glow.
L'Oréal Paris
Affordable, effective and available worldwide, the Sublime Bronze collection by L'Oréal Paris is always a safe bet. The water-resistant lotions and gelée create a streak-free tan that lasts long.
Tan-Luxe
Choose between transparent tanning, gradual tanning or instant tanning with Tan-Luxe's range of sunless tanning products. Not sure what transparent tanning even means? Tan-Luxe has created a tanning water infused with vitamins that is totally transparent (hence the name The Water). Cruelty-free, available in two shades, stain-free and deliciously fragrant, these products will look great on your vanity.
Vita Liberta
Vita Liberata promises a "high fashion glow". You can shop by the type of tan you are looking for: a tinted and lasting tan, instant results, gradual build tan, a natural glow, a deep dark tan or a facial glow. The Body Blur is a fan favourite since it creates a flawless finish, blurring imperfections. What more could you ask for?
Supergoop!
Supergoop! offers a natural and long-lasting tan you will notice after only a few hours after application. Packed with natural ingredients like aloe juice, vitamin E and vitamin B5, the formula doesn't stain clothes or sheets and even protects your skin with its added 40 SPF.
Tips to prevent streaks when using self tanners
Even if you buy the best self tanner on the market, you need to apply it properly to get that gorgeous sunless tan. Here are some easy tips to follow to get a perfect look every time.
Exfoliate
Use a loofah or exfoliating mitt to remove all the dead skin from your body. Focus your energy on the roughest spots of your body i.e. your knees, elbows, ankles and heels to avoid dark spots. This step is crucial since it will ensure you avoid an uneven application.
Hydrate your skin
After you've padded yourself dry and you don't have one droplet of water on your skin, moisturize your body with a lightweight lotion and concentrate the application on dry spots like your nostrils, elbows and ankles. If your skin is dry, the self tanner will make your skin looker darker and orange. No thank you.
Applying evenly
Apply your self tanner of choice in circular motions evenly on your entire body. Experts suggest you start from bottom to top since you'll be lengthening your body and not bending it, which could cause marks.
Wash your hands
After you've applied the product everywhere, make sure you wash your hands so your palms don't get orange.
Wait before putting on clothes
This might be the least fun part of at-home self tanners but you need to wait before getting on with your day if you want to avoid staining your clothes. Before you get dressed, touch your skin to make sure the product has sunk in properly.
Avoid water 24h after the application
We highly suggest you avoid bathing, shaving and swimming 24 hours after you've applied your self tanner. The colour develops over time so avoid wetting your body since it could create streaks.
Faking a tan is (thankfully) easier than ever. Even though a sunless tan takes a bit more effort than a regular tan, it is much better for your skin and health. The formulas in the products above are much safer than the sun and create a beautiful faux tan. It's time to show off those golden legs and shoulders!
---
Cover photo: Jane Palash | Unsplash