The best shampoos for fine hair and those with thinning locks
If you want thicker looking hair, you need to get to the root of the problem (see what we did there?). It's time to ditch your 10-in-1 shampoo for the best shampoos for thin hair on the market. Hair flips are welcomed.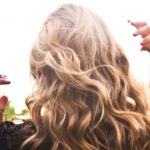 Limp, lifeless, stringy and dirty after only a few hours (and you haven't yet gone to the gym), fine hair can be a total drag. Women who have this type of hair need to add a little oomph, i.e. volume to their locks so hair can look thicker and bouncier without the use of extensions. How exactly does one go from flat, limp strands to shampoo-commercial bouncy hair status? It's not a secret, it all starts in the shower. The best shampoos for fine hair will cleanse, lift, and provide volume to your locks, which will help during your post-shower styling routine. Here they are.
Advertisements
Ouai
Advertisements
Bumble and Bumble
Advertisements
Living Proof
Advertisements
R+Co
Kevin Murphy
Verb
Fine hair tips to add even more volume après-shower
Sometimes, your fine hair needs extra help from some styling products and hair styling tricks. These tips will help you add volume to your hair.
Tip 1
Before you style your hair with various products and gadgets, make sure you keep your brushwork to a minimal. Overbrushing your hair while you dry them will actually make your hair limper. So skip the brush next time you blow-dry your hair and use your fingers.
Tip 2
Avoid your roots! When you use volumizing styling products, whether it is a spray or a cream, start applying the product at your ends. A simple mantra to remember: any hair product should first be applied at the ends.
Tip 3
Stock up on the right products. Every fine haired girl should own a root lifting spray (yes, this product can be used at your roots), dry shampoo, a matte pomade and sea-salt spray. These are your go-to products for added volume.
Tip 4
We lied. The first step to more voluminous hair does not start in the shower. It starts in the salon chair. Some haircuts and hairstyles, like styling products, are better than others to turn fine hair into bouncy and thicker locks. Pixies, bobs, lobs, and all blunt, choppy and shorter hairstyles work extremely well because they help to achieve fuller-looking hair. If you can't imagine yourself without long hair, favour long layers and blunt ends.
Just because you were born with fine hair, it doesn't mean you're stuck with lifeless and limp strands forever. The shampoos above, as well as the tips we shared, are the best way to give your hair an added boost that will create volume and lift!
---
Cover photo: Tim Mossholder | Unsplash