Small tattoo ideas for women: 12 ideal places to get one done
From your fingers to your toes (and almost everywhere in between), these small tattoo ideas for women will have you itching to make an appointment asap.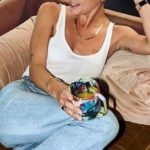 Popular since the Neolithic Period, tattoos have come a long way since then but still remain one of the most favoured forms of self-expression. It's no longer frowned upon to be covered head to toe in permanent ink. Animals, people, quotes, dates, funky doodles, the options are limitless when you're ready to go under the needle. The artistry, patience and finesse needed as a tattoo artist is not something everyone is born with. That's why you should always leave it to the professionals. Small tattoos are extremely popular since they are discreet and delicate but are hard to accomplish. If you're looking to get your first tattoo or you are looking to grow your collection, discover 12 small tattoo ideas for women and the perfect spots for them.
Advertisements
Small tattoo ideas for women
Why are teeny tiny tattoos so popular? Well, first of all, they are small, which means they can easily be hidden or camouflaged with a long sleeve or even your hair depending on the tattoo placement. Small tattoos are also perfect for every kind of girl, no matter your the style, since whether you like the sun and moon, a flying bird, animal tattoos, a music note, a small flower, a paw print, it symbolizes something truly special for you. These little tattoo designs are extremely feminine and look great on your ankle, arms, shoulder, hands, wrist and ear. Tasteful and a good start if it is your first ink, these small tattoo ideas for women are sure to help you decide where you want to get one done!
Advertisements
Finger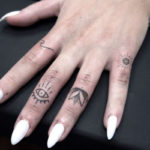 Even though finger tattoos tend to hurt a little bit more than other tattoos that are located in fleshier areas, they look really cute and delicate and you can get many of them. People will notice them, of course, but since they are so small, they are less 'in your face' than other tattoos. A small tattoo idea for women who love to accessorize their tattoos with their rings.
Advertisements
Neck (back)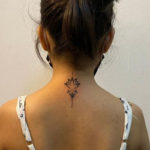 Your best friend, the one you've known all your life, could never even find out you got a tattoo if it is located at the back of your neck, which makes it the perfect location if you want to keep your tattoo a personal thing.
Advertisements
Hand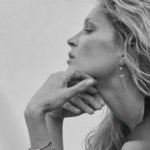 The side of the hand has more space to create more intricate and sharp designs and is more subtle than directly on the fingers. If you want to get words or even a short sentence as well as long objects like feathers or flowers tattooed, this is an excellent spot that won't attract too much attention and will still look nice over time.
Ankle (inside)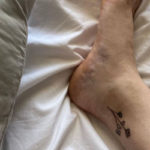 A tattoo inside the foot is discreet and looks great with sandals, barefoot at the beach or in the grass. Easy to camouflage, unless you live in sunny California or Dubai, you only share it with the world when you are sockless. This smooth surface is easy to work with and is big enough to ensure your small tattoo will look great.
Ankle (back)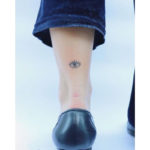 An excellent small tattoo idea for women is this eye at the back of the ankle. Subtle, your tattoo can be easily covered by socks and high-top shoes and won't attract too much attention if you're the type of person who likes to keep things to themselves.
Tricep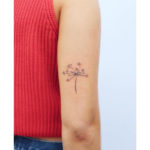 Only visible when wearing a t-shirt, cami or bathing suit, tattoos at the back of the arm (in the tricep area) have that 'now you see me now you don't' feature that is very practical in numerous situations. A delicate and dainty flower like this will barely hurt since it is in a very fleshy area of the arm.
Wrist (inside)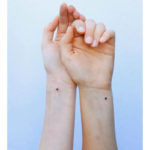 Super cute and small, these hearts won't distract your conservative parents or boss (even though this should never stop you from getting some tattoos) and provoke them to scorn you for 'defacing your body'. Tattoos this small should be reserved to top ink artists you absolutely trust. You don't want a circle-shaped like a heart instead of a perfectly defined one.
Forearm (inside)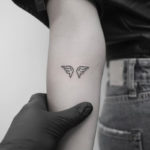 If you love to soak up some sun and tend to tan (or burn) easily, the inner forearm is a great place for a tattoo. These wings aren't too intense or 'in your face' so even your conservative grand-mother will approve of this tattoo and find it cute. Also, if your tolerance for pain is low, the inner forearm is the perfect place to choose since it is so fleshy.
Thumb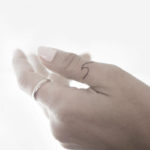 The top of the thumb is a good spot for a tattoo since there is more space to create sharper lines and more intricate designs.
Forearm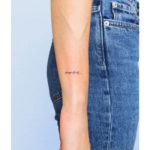 Usually, getting a tattoo on your forearm would not be very strategic if you're trying to keep it to yourself but this forearm tattoo above proves sometimes things in plain sight can still be subtle. Thin, elegant and minimal, a word or outline of an object or form has a timeless look to it you'll never regret.
Rib (side)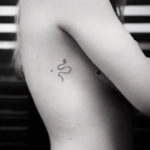 Easy to hide, the side of the ribs is an excellent spot for corporate world women (or any woman who prefers to keep her tattoos out of plain sight) who like to keep their tattoos on the DL. The tattoo artist has a large space to work on so there are fewer chances of errors and smudges.
Forearm (side)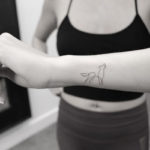 Just like the top of the forearm, the side of the forearm is an ideal place if you want to keep your tattoo out of prying eyes. This tattoo, an outline of a howling wolf is incredibly minimal, subtle and timeless.
These small tattoo ideas for women who want to choose whether they want to show off their ink or not are simple, pretty and classic. Now that you have an idea of where you want your small tattoo and what you want it to be, remember to pick a tattoo artist you love and trust. Remember, these are (practically) permanent!