10 Halloween cocktails as delicious as they are frightening
Add some alcohol and atmosphere to your spooky party with these incredibly delicious but sinister Halloween cocktails.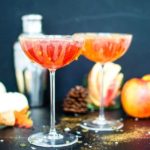 These exquisitely scary cocktails will bring atmosphere to your evening of fun on the 31st of October; to be enjoyed as an aperitif with your best friends for a costume party or to be served to your guests at a Halloween party to create a chilling effect. Finish off with some of these surprisingly appetizing Halloween recipes and you'll have a spooktacular night. Here are 10 creepy Halloween cocktails to brew.
Advertisements
 Witches' Brew Mimosa
These autumn-flavoured mimosas are perfect for your Halloween evening. Simply serve them in pretty glasses dripping with maple syrup or caramel and call them the witch potion. This revisited version of the mimosa combines the flavours of apple cider, grenadine juice, ginger ale, caramel and champagne brandy to make it a delicious cocktail ideal for October.
Advertisements
Sleepy Hollow
Inspired by the excellent horror thriller of the same name, the refined Sleepy Hallow is the perfect Halloween drink for spirit lovers. Serve this mixture of absinthe, mezcal, St. Elizabeth and Angostura rum on ice and don't forget to garnish with a few sprigs of burnt rosemary, such as incense. This final touch gives a dark charm and a smoky, herbaceous flavour to this creation.
Advertisements
Squid Ink Martini
Redefine elegance with this gloomy jet-black cocktail. In addition to giving the mixture its colour and dark character, the sapidity of the squid ink makes it an excellent addition to the martini. It is slightly salty and therefore complements this type of cocktail well.
Advertisements
Witch's Brew
For an evening with a large number of guests, take out your cauldron and start preparing this alcoholic witch potion. Made with Pinot Grigio, apple cider, bourbon and ginger beer, and topped with apple and cinnamon slices, this Halloween punch tastes like fall. For more effect, add dry ice cubes before serving. However, make sure that no one drinks before it has melted.
White Widow
This Halloween cocktail creation, by the talented Colleen Jeffers, is creamy and tastes like candy. The thickness of the White Widow made from gin, coconut water, ginger and cardamom syrup, lime and lemon juice and egg white creates a pretty spider web decoration.
Pumpkin Pie Punch
Want to serve something more cheerful yet still in line with the Halloween theme? Try this delicious autumn orange-hued punch. Made with real pumpkin — which gives it its pretty colour and pleasant consistency — and extremely easy to recreate, this charming cocktail is also perfect for a Thanksgiving party. Topped with whipped cream and pumpkin pie spices. 
Where There's Smoke
Smoky, fruity, bitter, spicy, salty: this perfectly balanced cocktail offers a wide range of flavours. With a blood red colour and accompanied by black sea salt, it is perfectly served during an evening in honour of the dead. Carefully add dry ice to honour the name of this cocktail made with mezcal, pomegranate juice, Cointreau, lime and orange juice, agave syrup and mole bitters.
Black Friday Detox Cocktail
Not convinced by squid ink? You can still enjoy a black cocktail on Halloween by using activated charcoal powder. This recipe not only contributes to a spooky atmosphere but also to your health! This drink made from beetroot, vodka, ginger and activated charcoal powder has detoxifying properties.
Red Apple Cider Sangria
Who said sangria was reserved for the summer months? This one will bring life to your Halloween party with this fall version. Simple to prepare and easy to make in large quantities, this red apple cider sangria is an excellent choice of an alcoholic beverage if you have many guests coming over. Practical and delicious, you are sure not to go wrong with this concoction that will please everyone.
La Llorona (The Weeping Woman)
This fresh and sinister martini is inspired by a Mexican folklore tale. La Llorona means "the woman who cries" and tells the story of a beautiful woman who drowned her baby for the love of a man who rejects her. Her crying ghost now wanders streams in a white dress in search of her child.
Host a big Halloween party with tons of guests or plop on your couch for a horror movie marathon with a few friends, popcorn and a good drink inspired by the Festival of the Dead. These Halloween cocktails will add flavour, atmosphere and alcohol to your night of horror.
---
Cover photo: appetitessays/Instagram