How to make gluten-free bread
Who needs prepackaged bread when you have the time and skills to bake your own delicious fresh homemade gluten-free bread. Actually, forget about skills, all you need are these recipes.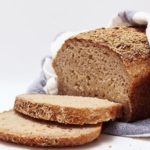 Long gone are the days when being celiac was basically the social equivalent to locking yourself up in the attic and the gastronomic one to, well, eating a very sad diet. Now that the gluten-free lifestyle has gained in popularity and more and more people are benefiting from it, alternatives that no longer taste like cardboard can be found almost everywhere. This means gluten-free baguettes, buns, baked goods and everything else that is basically just like the real thing is available in supermarkets and, depending on your location, next door cafés. This is very good news, because we live in the 21st century and rare are those who bake their own loaves on Sundays. That being said, if you are willing to put in the hours for the smell of freshly baked (gluten-free) bread in the house, if you live on a remote piece of heaven of which the only flaw is the unavailability of store-bought celiac-friendly bread, or if you just want to give it a try, here is how to make gluten-free bread.
Advertisements
Vegan gluten-free bread loaf
Advertisements
No-knead gluten-free bread loaf
Advertisements
Super quick and easy gluten-free bread
Advertisements
Yeast-free keto gluten-free bread
So take out your tote bag and hit the health food store to stack up on gluten-free flour mixes, because it's time to bake some gluten-free bread. But be warned, these recipes might make you skip the new and improved gluten-free sandwich loaves at the grocery store and your house might start smelling really good on Sundays.
---
Cover credit: @glutenfreebakingacademy | Instagram