Non alcoholic drinks: the best holiday mocktail recipes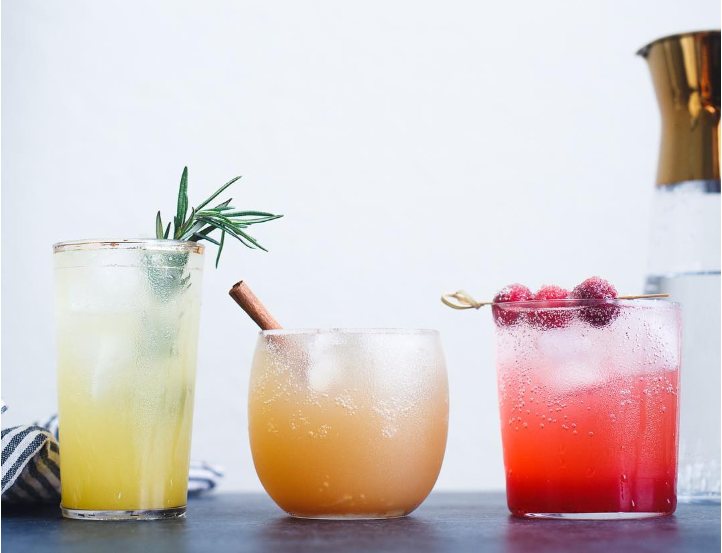 Alcohol-free Christmas time is a lot more easy and fun than you think. All you need is some easy delicious recipes for the perfect holiday mocktail ideas.
We all know – and love – classic Christmas time drinks. Eggnog, apple cider punch and wassail are one more reason to look forward to December. And thankfully, these traditions in a glass can easily be adapted to be served to children, expecting women and all those who prefer their drinks alcohol-free. But if you are looking to surprise your guests by steering away from classics while still serving the holiday spirit in sippable form, here are 13 delicious holiday mocktails to please everyone and celebrate in a big way!
#2 according to our users
This classic summer cocktail just got a holiday makeover. Aside from matching your fancy decorations, this alcohol-free revisited mojito brings the perfect dose of freshness into the heavy food, fireplace and everything wool season. The butter Half's minty pomegranate virgin mojito recipe is the perfect mix between sweet and tart to properly welcome your guests of all ages.
2

Honey Roasted Pear Sparkling Mocktail
#9 according to our users
Step away from the expected with this delicious, refined and light mocktail. The mix of sparkling white grape juice, roasted pear puree, honey, fall spices and a touch of vanilla is a simple way to sip something fancy and alcohol-free all night. Lindsay Cotter from Cotter Crunch's warming holiday refreshment recipe can also easily be adapted for those who want a little kick. Simply substitute the juice for sparkling wine or champagne for a boozy version. 
3

Cranberry Pine Mocktail
#7 according to our users
Bring a taste of nature into the holidays this year, literally. This cranberry pine holiday mocktail takes the spirit of the Season to another level. Spicy, tart, sweet and hearty, this Merry Thought virgin Christmastime cocktail has a fresh and deep flavour that pairs perfectly with the month of December. Garnish with sugared cranberries for a more festive look or keep it natural for the purists.
#5 according to our users
The Russians, if anyone else, know how to survive winter. It's, therefore, not surprising that the Moscow mule makes a great cold weather drink. That being said, Tolstoy's homeland isn't as keen on non-alcoholic cocktails. Thankfully, The butter Half came up with a delicious booze-free version of this tart, light, gingery and both warming and refreshing drink. To be served in mule cups for the full experience.
#3 according to our users
If you have a large family, someone will inevitably show up with a runny nose. The best way to take care of them and prevent everyone else from getting sick is by serving some delicious germ-fighting cocktails. They don't even have to be filled with alcohol! This stunning Cold Cure virgin drink gathers the healing properties of lemon, ginger and honey in a delicious drink. Everyone will want a glass, garanteed.
#4 according to our users
Who needs mulled wine when there is mulled mandarin juice. Serve hot refreshments fit for everyone including kids and pregnant women by whipping up a big pot of this delicious and comforting perfect for Christmas punch. This year, skip apple cider in favour of a too often forgotten cold weather fruit. Aromatized with the ideal mix of fall and winter spices, this mulled mandarin punch from Use Your Noodles is certain to surprise your guests in the best of ways.