10 recipes for a happy and vegan thanksgiving
Celebrate the harvest and give thanks by hosting an original and in season fest completely meat, dairy and egg-free with these vegan thanksgiving recipes.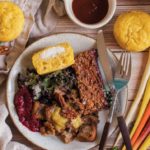 So you're hosting a vegan Thanksgiving this year and hoping to make a splash and maybe even convert a few? Break out your best side dish recipes such as glazed carrots, baked green beans, and roasted Brussels sprouts. These classics should not cause any problems as they are often naturally free from animal products. Those which call for butter can easily be made with its vegan equivalent. As for the rest of your November feast, make the most of the season's harvest with these 10 delicious recipes for a perfect vegan Thanksgiving.
Advertisements
Vegducken
Remain true to tradition but spare the turkey with this creative and vegetable-centric take on the turducken. Why don't you forget about the bird this year and stuff a butternut squash instead? Beware of vegetarian recipes which contain cheese and opt for a vegan one like Lauren Toyota's from Hot for Food.
Advertisements
Scalloped Potatoes
Of course, no Thanksgiving dinner is complete without at least one potato side dish. Make yours a delicious scalloped spuds dish to complement or replace the conventional mashed potatoes. Enjoy both sweet and Yukon Gold potatoes with this dairy-free recipe from Eating Well. The casserole is topped with grilled almonds which offer a little crunch, a nice addition to an already perfectly comforting side dish.
Advertisements
Lentil Loaf
In need of a little change? Skip the Tofurkey and opt for a meatloaf. A vegan one, of course. Made with lentils, oats and mushrooms, Mel's recipe from A Virtual Vegan is delightful, filling, healthy and protein packed. What more can we want? A vegan gravy perhaps? Yes, she's got that covered too.
Advertisements
Nutty Wild Rice and Shredded Brussels Sprouts Stuffed Mini Pumpkins
Dare something fresh and unusual with these adorable wild rice, nuts and shredded Brussels sprouts stuffed mini pumpkins. This perfect fall recipe created by Tieghan from Half Baked Harvest is the perfect balance of sweet and savoury. Earthy and warm, it's a splendid addition to a vegan Thanksgiving table and doubles as a decoration.
Sweet Potato Shepherd Pie
Going fuss-free, conservative and comforting? How about a special take on an old classic. This everything but boring vegan and gluten-free shepherd's pie features sweet potatoes, lentils, mushrooms, and a good dose of iron, protein and fibres. Creamy, hearty and all around satisfying, Gena Hamshaw from The Full Helping's recipe is the way to go for serving a childhood favourite in a chic way.
Mushroom Wellington
Now, here's a crowd pleaser. This mushroom Wellington is ideal for a potluck Thanksgiving reception and certain to get the approval of vegans and non-vegans alike. Nicole's recipe from Delicious Everyday will make everyone forget about beef. Oh, and don't expect leftovers, there will be nothing left of your mushroom Wellington long before the end of the night.
Spiced Cauliflower Roast
Who needs turkey when there's cauliflower roast. This festive main dish doesn't only looks great but also tastes great. And don't be fooled by cauliflower's boring reputation, Lauren Caris Cooks' recipe is perfectly spicy and full of flavours. Baked and served on a bed of lentils, this gourmet cauliflower is an original and warming alternative to the Thanksgiving poultry tradition.
Stuffing
Don't forget about the stuffing, because no one else will. Caroline's recipe from the blog Pickled Plum can put to shame any butter, eggs and chicken broth filled alternatives. This savoury, nutty and herby vegan version might just be the ultimate festive and hearty stuffing, all types combined.
Creamy Kale Salad with Pomegranate and Toasted Hazelnuts
Thanksgiving is not a reason to omit your greens. This year, serve them in the form of this gorgeous creamy, crunchy, colourful and cheerful kale, pomegranate and hazelnuts fall salad. Hannah's recipe from Two Spoons is the best way to get your nutrients in during the holidays. Fresh yet hearty, it's the perfect healthy side dish for an autumn celebration.
 Salted Caramel Apple Pie
Already had too much pumpkin everything? Surely you're not tired of apples yet too? No. Good, because we have an amazing pie recipe for your Thanksgiving dessert. Aimee Ryan's recipe from Wallflower Kitchen is the definition of vegan baking made easy. Her apple pie recipe is simple and offers a unique little touch and a beautiful mix of flavours. The filling contains a rare-for-vegans salted caramel sauce stirred in the filling along with spices. It's the ideal sweet and comforting way to conclude a fall celebration dinner.
This year, spare a turkey and skip the milk, butter, eggs and chicken broth, yet celebrate the harvest and give thanks with an epic feast. These 10 recipes will make for an amazing vegan Thanksgiving meal.
---
Cover photo credit: carrotsandflowers/Instagram