Vegan keto fettuccine Alfredo sauce: The best recipes
No dish is off-limits on a plant-based high-fat diet, but most might need a little tweaking. Enjoy vegan keto fettuccine Alfredo sauce thanks to these delicious versions of the original stuff.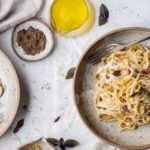 Don't repress your pasta cravings, even if it involves way too many carbs and a cream, butter and cheese heavy sauce. Of course, we are not implying that you should give up on your high fat plant-based diet, rather that there is always a way to adapt your favourite recipes to fit your diet and your eating habits. In the case of this somewhat simple yet highly comforting Italian classic, the meat and dairy-free low carb community is blessed with more than one alternative. Here are some of the best vegan keto fettuccine Alfredo sauce recipes to treat yourself and stick to a plant-based keto menu.
Advertisements
Abby's kitchen
This rich cauliflower and cashew-based sauce is served on kohlrabi linguine which is a great alternative to konjac and zucchini noodles.
Advertisements
Detoxinista
This nut-free cauliflower sauce is perfect for people with allergies and no less creamy than the original. Of course, don't forget to swap the wheat pasta for your favourite low-carb alternative.
Advertisements
Simply Quinoa
Creamy, healthy and avocado-y, this recipe screams vegan keto.
Advertisements
Meat-free Keto
Nutritionist & Vegan Keto author, Liz MacDowell, qualifies her creamy shirataki dish as a lazy vegan keto Alfredo recipe. Sounds good to us.
There you have it: vegan keto fettuccine Alfredo five ways. Avocado lovers, nut munchers, people with allergies, all plant-based low carbs eaters are certain to find the perfect creamy white pasta recipe according to their preferences. Feel free to mix and match the different sauces with the various types of noodles for some change or to fit your taste. Who said vegan keto was restrictive!
---
Cover credit: Bruna Branco | Unsplash