How To Buy The Right Gym Sneakers
Guest post by Jade Richards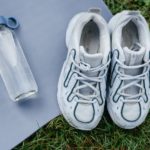 There's a modern proverb that goes: 'never skimp on things that touch the ground'. This means tires, mattresses, office chairs, and most especially—shoes.
Buying the wrong shoes can cost you more than just money. In fact, tendonitis, losing toenails, blisters, and bruising are all injuries that Shape Magazine traces back to poorly fitted shoes. Plantar fasciitis—or heel pain—and stress fractures are other common injuries that can be caused by wearing ill-fitting shoes. Runners and gym-goers dread these injuries for obvious reasons, and so should you. A good pair of gym shoes will let you test the limits of your body while keeping your feet comfortable and safe throughout a workout.
So with all that in mind, here are some tips that can help you look for the perfect shoes for your specific workout needs.
Advertisements
Weightlifting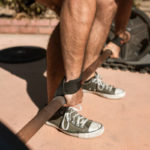 When weightlifting you want some shoes with stiff, incompressible soles. This will provide you a stable platform from which to lift from. Your shoes' straps or shoelaces should be secure enough to lock your feet down and prevent any unnecessary movement.
This is why Converse's classic Chuck Taylors are actually ideal for weightlifters who want durable shoes they can wear in and outside the gym. Podiatrist Monara Dini says that the shoes; flat, non-compressible soles help your feet grip the ground, allowing them to remain stable as you lift.
Advertisements
Running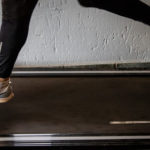 If the treadmill is your go-to at the gym, you might want to opt for some shoes that provide good mobility. Durable rubber outsoles will absorb shock, while a thick midsole that's neither too soft nor too firm should provide decent cushioning as you run. Running shoes from brands like Nike, Asics or Adidas should suffice and have features for running that normal sneakers won't.
If you are going to be running long distances, the adizero adios Pro running sneakers have a lightweight textile upper and an innovative midsole technology that is made to prioritize the comfort and performance of the wearer—they are the perfect pair for challenging runs. But if you want to do sprints on a treadmill, you might benefit from a pair of Nike Flex RN and their foam soles and shock absorption, making the shoes ideal for short but sweet routes.
Advertisements
Dance Workouts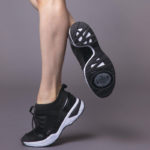 For dance workouts like Zumba, you need light shoes with just enough traction to let you perform sharp twists and turns without putting your feet at the risk of slipping. Good cushioning will also keep your feet comfortable by absorbing impact from jumps and hops.
According to an article from Dance Magazine, Bloch's Alcyone is the best next-generation footwear for dancers. The Alcyone's padded heel and three-layer insole provide the comfort necessary to protect your feet from pain or injury. Bloch also created a new kind of shoe accessory, the BLOCHSpot, which is a suede sticker you can attach to the bottom of your soles to help with gliding.
Advertisements
Cross Training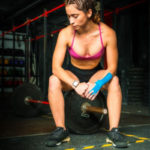 Not everybody limits their workouts to just one exercise. Fortunately, there's a kind of shoe that combines the strengths of the shoes above to help you perform well at any exercise: the cross-trainer. While not optimized for specific activities, cross-trainers will provide you enough flexibility to support you for basic workouts.
Because they can be used for many different activities, the best cross-trainers are designed for both comfort and durability. If you have a versatile list of athletic interests, Reebok's lightweight Nano X1 Adventure sneakers are designed to support you through high-intensity workouts, whether it's CrossFit, jump roping, or long-distance running. If you're just starting out, the shoes provide enough support for any basic workout. Test them out on our list of 10 minute workouts!
In summary, the best option is flat soles if you prefer to lift weights, but you need good shock absorption for treadmill workouts. Padded heels will make your dance classes feel like a breeze, but if you like to mix things up in the gym, opt for a good pair of cross-trainers instead. Picking the wrong shoes for your specific needs can cause injury, limit your workouts, and hinder you from putting your best foot forward.