Vegan yoga mats for the conscientious yogi
Find your perfect match among these vegan yoga mat brands that care about you and the environment. Namaste.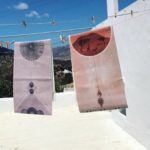 By now, we all know the difference between veganism and vegetarianism. We also know that being vegan doesn't stop at substituting carnitas for sofritas in your Chipotle burrito bowl. It's also about making ethical choices in every possible aspect of your life. This means cruelty-free cosmetics, vegan shoes and so on. And while yoga mats—unlike marshmallows—usually do not contain any hidden animal by-products, most sold in department stores are far from eco-friendly. Therefore, even the most well-intended yogi could be unknowingly throwing downward dogs and channelling their higher chakras on a mat that is not only toxic for them, but the entire ecosystem. Fortunately, there are brands who care. So when the time comes to acquire a new accessory on which to take your practice, perhaps make it one that values you as well as a sustainable production. Here are some of our favourite non-toxic and eco-conscious vegan yoga mats.
Advertisements
Gaiam
Advertisements
Manduka
Advertisements
Maji
Advertisements
Zenbear
Liforme
Jade
Yellow Willow Yoga
Barefoot yoga
Prana
Yoga Design Lab
Body Mind Connect
So while you skip on S'mores and munch on Oreos instead, take your vegan values literally to the mat and bring your yoga practice up a notch by opting for one of these stunning quality eco-friendly vegan yoga mats. Printed, minimalist, textured, smooth, gripping, sweat-proof and sustainable, you are certain to find your mat.
---
Cover photo: @margakasi | Instagram