10 of the best feel good movies to watch without moderation
There are many good reasons to relax in front of a movie and just let yourself be entertained. Here are the best feel good movies for a great evening.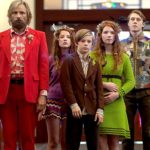 Are you going through a breakup? It is a grey, rainy and depressing day? There were no more of your favourite cookies left in the grocery store? Any reason is good to spend a day wrapped up in a blanket in front of the television drinking tea and eating popcorn. In such moments, what better way to get back on your feet than with a nice good movie feel? These light, pleasant and generally funny films are perfect for those who don't want to get bored and want to be entertained. There are tons of them, of course, but here is a non-exhaustive list of 10 of the best feel good movies to watch without moderation.
Advertisements
Bridget Jones's Diary
Released in 2001, the very first installment of the saga featuring Bridget Jones remains a classic even 15 years later. Bridget Jones's Diary was so successful that its sequel, Bridget Jones: The Edge of Reason, was released in 2004. However, it cannot be denied that these films are still as popular as ever since in 2016 the third instalment, Bidget Jones's Baby was released. Starring Renée Zellweger as a single, alcoholic, smoker and clumsy young woman, one can only be won over by this character who has become an expert in discomfort. While working at Pemberley Publishing, a publishing house, she falls in love with her boss, played by Hugh Grant, but also with an old acquaintance, a brilliant but a little uptight and rather serious lawyer, played by Colin Firth. Her meeting with him marks a turning point in Bridget's life, and she decided that it was time for her to change and take charge of her life. Funny and intelligent, Bridget Jones's Diary, inspired by Helen Fielding's eponymous novel and directed by Sharon Maguire, is certainly a film to watch and re-watch.
Advertisements
The Fabulous Destiny of Amelie Poulain
Beautiful, surprising, fresh, funny, magical; these are all adjectives that apply to the magnificent film The Fabulous Destiny of Amelie Poulin directed by Jean-Pierre Jeunet. Released in 2001, it does not fail to make us dream even today. It is also the film that made the excellent actress Audrey Tautou famous worldwide, who plays the lead role in it. In this film, we follow Amélie Poulin, a young woman who grew up in seclusion when her father wrongly diagnosed her with a heart disease. Her mother dies while she is still young and her father suffers a lot, so Amélie has to take care of herself, which leads her to develop a very strong imagination. Now a young woman, we follow her as she rubs shoulders with colourful characters and tries to make people around her happy, while also learning to cultivate her own happiness. The Fabulous Destiny of Amelie Poulin is a real delight for both eyes and ears since the soundtrack composed by Yann Tiersen is absolutely divine.
Advertisements
Big Fish
An incredible work by Tim Burton, Big Fish, released in 2003, is a real jewel. The film tells the story of Edward Bloom, a former sales representative who is in his final days. As his son, who had quarrelled with him, tries to improve their relationship before it is too late, Edward tells him about the incredible life he lived when he was still a young adult. Between his encounter with a giant, his discovery of a hidden city and his work in a circus, among others, Edward Bloom's life is filled with adventures, each more unusual and bizarre than the next. A truly modern and mature fairy tale featuring excellent actors such as Ewan McGregor, Albert Finney, Billy Crudup and Jessica Lange, Big Fish is a must-see when it comes to feel good movies.
Advertisements
Howl's Moving Castle
Who said cartoons were only for children? Hayao Miyazaki's Japanese animated films, among others, are aimed at both children and adults, especially when one considers that his favourite themes, such as the relationship that humans have with nature, ecology and technology, as well as the difficulties of maintaining peace while much of the world is at war, are rather serious. In Howl's Moving Castle, released in 2004, the director tells us the story of Sophie, an 18-year-old woman, who turns into a 90-year-old woman following a spell cast by a witch jealous of the attention a witch with whom she is in love gives her. Sophie is unable to present herself in front of her family in this way, so she runs away. She will then find a young, forgiving wizard, but with little self-confidence, who will have to help her regain her former appearance. A great adventure begins as she travels with this young wizard and his friends aboard her travelling castle.
Little Miss Sunshine
Released in 2006, Little Miss Sunshine is a feel good movie that will bring happiness and joy to your day. Directed by Jonathan Dayton and Valerie Faris, it tells the story of a colourful family that accompanies Olive, 7, to a beauty pageant that takes place 1287 km from home. On the road, a demanding father, an exhausted mother, a homosexual and suicidal uncle, a big brother who is dumb by choice and a rude grandfather share the space of an old Volkswagen Kombi with the young girl. The adventures they will encounter are abundant and always entertaining. Moreover, Olive's performance at the beauty contest will not leave anyone indifferent, but not necessarily for the right reasons. Starring Greg Kinnear, Toni Collette, Steve Carell, Paul Dano, Abigail Breslin and Alan Arkin, Little Miss Sunshine was a real revelation in 2006 at the Sundance Film Festival, the largest independent film festival in the United States. This film is entertaining and you'll want to watch it again and again.
Yes Man
Being one of the comedians par excellence of American cinema, a film with Jim Carrey can only be funny and enjoyable to watch. However, unlike other films by this actor, Yes Man, directed by Peyton Reed and released in 2008, is a comedy that sometimes borders on ridiculous, certainly, but it is also intelligent and well balanced. Accompanied on screen by Zooey Deschanel, Bradley Cooper and John Michael Higgins, Jim Carrey plays Carl Allen, a homemaker who refuses everything he is offered, from activities with friends to loan applications he receives as part of his job as a loan officer in a bank. One day, a colleague asked him to attend a conference advocating the use of the "yes", a philosophy of life that states that anything is possible. Carl's life will, therefore, change completely as he decides to "say yes" to absolutely all the proposals before him, without ever weighing the pros and cons. Quirky, funny and charming, Yes Man is one of the many feel good movies that make you feel better when you have a bad day.
Seeking a Friend for the End of the World
Seeking a Friend for the End of the World by Lorene Scafaria, is a pleasant cinematographic surprise. Released in 2012, when the apocalyptic themes were at their peak, this film positions itself in a very different and refreshing way in response to the latter. While all attempts to prevent the collision of the asteroid Matilda with Earth have failed, all humanity is learning that the end of the world will come in three weeks. While Dodge Peterson was in the car with his wife when he heard the news, she left him stranded and without a word. So he goes back to his normal life but as he returns home after a party with friends, he sees his neighbour Penny Lockhart crying by his window. He will befriend her and together they will try to join their respective families before the end of the world comes. While it might seem strange that Steve Carell and Keira Knightley should share the spotlight, the duo is actually a spectacular success. A dramatic comedy against a backdrop of the end of the world, Seeking a Friend for the End of the World is a magnificent work that makes us think about what is really important in life, all through adventures that are sometimes charming, sometimes more dramatic, but always necessary.
Pitch Perfect
Perfect for fans of music, comedy and fun, Pitch Perfect can be watched on a loop. Having just arrived at Barden University, Beca has to continue her studies because of her father, whereas she would much rather try her luck as a music producer in Los Angeles. Being rather lonely, even wild, Beca is more of a music listener and song mixer than a socializer. However, one thing leads to another and she becomes a member of the Bellas, an all-female a cappella group. While this activity does not delight her so much at first because of the friction between her and the other members, Beca revolutionizes this group of young women. Musical performances and hilarious dialogue are an integral part of Pitch Perfect, a most entertaining film directed by Jason Moore, released in 2012 and starring Anna Kendrick, Brittany Snow, Anna Camp, Rebel Wilson and Skylar Astin. For the moment, the franchise is at three films, but a fourth film may be in preparation.
Moonrise Kingdom
Wes Anderson always creates colourful, rhythmic, funny and entertaining films. Released in 2012, Moonrise Kingdom is no exception. In this film, we follow Sam and Suzy, two 12-year-old preteens who fall in love and run away, him from his scout camp, her from her house. Both very intelligent, but rather lonely and often rejected by their respective comrades, they will survive alone in the wild for a long time as the scout group led by their troop leader Ward, Captain Sharp, their families and almost all the inhabitants of their village go in search of them. This film, with its impressive cast including Bruce Willis, Edward Norton, Bill Murray, Frances McDormand, Tilda Swinton, Harvey Keitel and others, is directed by two absolutely brilliant young novice actors, Jared Gilman and Kara Hayward. Moonrise Kingdom could deserve to be seen as fair for the performance of these young actors, but it cannot be denied that the work, in general, is quite sublime.
Captain Fantastic (2016)
Captain Fantastic is an adorable, beautiful, touching and funny film. A true revelation in 2016, this movie by Matt Ross has everything to please. Starring Viggo Mortensen, Frank Langella, Steve Zahn, Kathryn Hahn and George MacKay, this film tells the story of Ben, a man who lives in the forest with his wife and their six children. While they live completely isolated from society, it is he who is in charge of the academic and physical education of the latter. However, a tragedy strikes the family and forces them to leave their corner of paradise for a getaway into civilization. While his children are not at all familiar with the modern world, they will have to learn to cope with society and people who consider their lifestyle strange and unacceptable. However, Ben will have to review his way of life and raise his children as they enter a new phase. Captain Fantastic is a success in every respect and is really one of the best feel good movies out there.
All reasons are good reasons to watch a feel good movie, whether you have a bad day or not. This type of film is ideal to bring happiness into your life and there are films for all interests! The 10 films mentioned above are undoubtedly among the best feel good movies, but there are obviously many others that are just waiting for you to discover them or watch them for the thousandth time!
---
Cover photo: IMDb