Amazon Prime: Movies and series released in December 2018
A competitor of Netflix, Amazon Prime also offers a wide selection of films and TV series. Here are the new releases planned for December 2018.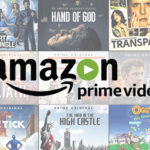 For the latest releases available on Amazon Prime in February 2019, click here!
When it comes to TV series and movies to watch online, most people think of Netflix and forget that Amazon Prime exists and offers the same kind of platform. Amazon Prime, or Prime Video, was created in 2016 and offers a very wide choice of films and series, including original ones created by Amazon. And like Netflix, the platform offers new movies and series every month, to the delight of its subscribers. Once you have seen the new features scheduled for December 2018 on this platform, you will certainly want to subscribe if you haven't already done so!
Advertisements
December 1st
On December 1st, lovers of classic films will be delighted with the arrival of a very large number of them. Indeed, you can watch  A Clockwork Orange (1971), A Fish Called Wanda (1988), A Fistful of Dollars (1964), All the President's Men (1976), Bad Girls From Mars (1990), Because I Said So (2007), Bestseller (2015), Beverly Hills Vamp (1989), Blue Hill Avenue (2001), Boogie Nights (1997), Bright Lights, Big City (1988), Event Horizon (1997), Gargoyle (2004), Groundhog Day (1993), Happily N'Ever After 1 et 2 (2006 et 2009), Hitman's Run (1999), King of the Mountain (1981), Line of Duty (2013), Livin' By The Gun (2011), Margin Call (2011), Mars Attacks! (1996), The Naked Gun: From The Files Of Police Squad! (1988), The Naked Gun 2½: The Smell Of Fear (1991), Naked Gun 33 1/3: The FInal Insult (1994), Ordinary People (1980), Promised Land (2012), Silent Tongue (1993), Sleepover (2004), Teenage Mutant Ninja Turtles (1990), The Black Stallion (1979), The Dark Crystal (1982), The Firm (1993), The Game (1997), The Godson (1998), Trucks (1997), Ulee's Gold (1997), Valkyrie (2008), War (2007), Welcome Home, Roscoe Jenkins (2008), Wild Wild West (1999) et Windtalkers (2002).
Advertisements
December 5th
Amazon Prime Original
The Marvelous Mrs. Maisel Season 2
Advertisements
December 7th
Starting December 7th, you will have the chance to watch the hilarious movies Killers (2010) and Why Did I Get Married Too? (2010).
Advertisements
December 8th
On December 8th, Amazon Prime will feature the mysterious fantasy drama Before I Fall (2017).
December 14th
Amazon Prime Original
LOL: Last One Laughing Season 1
December 15th
The mini-series Life of Crime (2013) will arrive on the platform on December 15h.
The most anticipated
4 Blocks Season 2
Based in Neukölln, Berlin Toni manages the daily affairs of Arab gangs and ends up wanting to leave his old life behind for his family, but obviously, it's not that simple.
December 16th
Once again, Amazon Prime will give you the chance to laugh a lot on December 16th by adding Evan Almighty (2007) to its repertoire.
December 19th
A Most Wanted Man (2014), a dramatic thriller, will arrive on the platform on December 19th.
December 21st
Amazon Prime Originals
Life Itself
Vanity Fair Season 1
December 25th
As a Christmas gift from heaven, Amazon Prime will offer its subscribers on December 25th one of the most incredible films of the Marvel franchise, Iron Man 2 (2010)!
December 27th
Hereditary
After the death of the family matriarch, a grieving family is haunted by tragic and disturbing events and begins to unlock dark secrets.
December 28th
Amazon Prime Original
Niko And The Sword Of Light Season 2
As you can see, there will be plenty of entertainment on Amazon Prime in December! Put on your pyjamas, prepare a bowl of popcorn and a delicious hot drink and enjoy December cozied up on your couch!
---
Cover photo: CNET France