The best family Christmas movies to watch this holiday season
New holiday movies are released every year, but the best family Christmas movies are always the same ones you love to see again and again.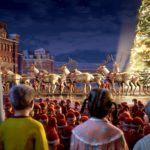 Christmas is one of the most beautiful holidays ever. Snow covers the ground with a pretty white coat illuminated with a thousand lights by the Christmas lights that line the houses. This is the perfect time to spend evenings with friends and family eating good food and drinking good wine; well, OK, all moments are perfect for that, but the Christmas spirit always adds a little something extra. Over the holidays, we all have a lighter heart and feel joyful. In order to maintain this state of mind, what could be better than watching Christmas movies? There's nothing more entertaining on a snowy evening, with a bowl of popcorn and a delicious comforting hot chocolate. However, although new films are released every year, the best family Christmas movies are those released a long time ago. So here are 15 of the best Christmas classics to watch with your family right now, because it's never too early to start getting into the mood!
Advertisements
It's a Wonderful Life
Bedford Falls, December 24th, 1946. George Bailey, a highly indebted bank manager, is at the end of his rope; he considers himself a failure and is currently facing financial ruin and arrest. The only solution he seems to have left? Suicide. However, the angel Clarence Oddbody, who still has not regained his wings after 200 years, is sent to help George. In his life, he has done many selfless acts and married his childhood friend with whom he had wonderful children; despite everything, his financial depression haunts him and he once said that he would rather never have been born. Clarence's mission is to show George what the world would look like if he had never really existed, and George is forced to admit that he has touched many more lives than he thought, realizing that he is living a good life despite the challenges. A magnificent, wonderful and touching film, It's a Wonderful Life by Frank Capra, released in 1946, never goes out of fashion and is a real delight to watch year after year.
Advertisements
A Christmas Story
A Christmas Story takes place in the 1940s, in the city of Hammond, Louisiana. We follow the 9-year-old Ralphie, who wants more than anything to receive an air gun for Christmas. However, the opinion of all the adults around him seems unanimous; his mother, his teacher and Santa Claus himself consider it a bad idea, all saying that "You're going to shoot yourself in the eye". The young boy is therefore very afraid of never receiving his official Red Ryder BB rifle, but who knows? Maybe a surprise awaits him on Christmas Day… A Christmas Story, directed by Bob Clark and released in 1983, is without a doubt a holiday classic that you never get tired of watching. You have to admit, the adorable Ralphie has a lot to do with it!
Advertisements
Scrooged
A contemporary surrealist adaptation of Charles Dickens' A Christmas Carol, Scrooged, directed by Richard Donner and released in 1988, is a Christmas hit. As soon as the snow starts to stay on the ground, it's a sign that it's time to follow the excellent Bill Murray in his role as Frank Cross, the meanest and most depraved man in the world. He will do anything to increase the audience ratings of his network. His worst blow, however, is during the Christmas holidays when he forces all staff to create a provocative live production of A Christmas Carol for national television and work until Christmas Eve. However, Frank receives a visit from the ghost of his former boss, who died seven years earlier, who asks him to make amends if he doesn't want to end up in hell. To help him get there, three ghosts will transport him through scenes from his past, present and future, trying to show him how he became the terrible man he is. Funny and touching at the same time, this film is the perfect holiday entertainment.
Advertisements
National Lampoon's Christmas Vacation
"National Lampoon's Christmas Vacation" is the third installment in the National Lampoon's Vacation series, following the wild adventures of the typically American Griswold family. In National Lampoon's Christmas Vacation, father Clark decides that this year he will follow the Christmas tradition to the letter. He will cut his own tree with his wife and children, invite the whole family to his home and decorate his house with 25,000 light bulbs! However, his plans do not go as planned as his Christmas lights refuse to go on, his cousin Eddie arrives from Kansas uninvited and his Christmas bonus, which must pay for the pool he bought in secret, is being delayed. Funny, light and entertaining, this film, released in 1989, directed by Jeremiah S. Chechik, is a classic not to be missed.
Edward Scissorhands
In 1990, Tim Burton presented his incredible and now classic family Christmas movie Edward Scissorhands. It is the character of Edward, a young synthetic man built by an eccentric inventor, that launched Johnny Depp's career. Following the sudden death of his inventor, who did not have time to put hands on him, Edward is destined to live for the rest of his life with scissors as his hands. While he lives alone and secluded in his mansion, Peg Boggs, an Avon representative, takes him under her wing and takes him home. While Edward only wants to be loved, he becomes a celebrity, becoming the official hedge trimmer and then the appointed hairdresser for the whole neighbourhood. However, he will be tricked by Kim's boyfriend, Peg's daughter, with whom he has fallen in love, and everyone except Peg and Kim turns against him. Beautiful and magical, Edward Scissorhands is a work that perfectly combines fantasy, romantic drama and comedy and that is a pleasure to see again with each first snowfall.
Home Alone
When you think of a Christmas movie, you think of Home Alone. It's impossible to get ready for the holidays without watching this cult movie featuring a cute and adorable Macaulay Culkin. Excellent to watch as a family, Home Alone, directed by Chris Columbus and released in 1990, tells the story of young Kevin who is unfortunately left alone at home while the rest of his family has gone to France for the holiday season. When he realizes that his family has forgotten him, he must learn to manage on his own and use his imagination, especially when two burglars try to break into his home. Everyone remembers the wacky traps that the young boy sets for the thieves, but does not stop them; each time, we laugh at the course of events and are entertained. This is without a doubt one of the best family Christmas movies to watch every year.
The Nightmare Before Christmas
Jack Skellington is a skeletal scarecrow affectionately known as the Pumpkin King. A resident of Halloween city, he is the undisputed master of horror, constantly working to prepare for the next Halloween celebration. However, Jack is tired of his monotonous and routine life, so he decides to leave town. He will, therefore, cross over to Christmas city and after this discovery, he returns home to bring Christmas celebration to life for the first time for the residents of Halloween city. The Nightmare Before Christmas, directed by Henry Selick, based on an original story by Tim Burton, and released in 1993, is certainly one of the best Christmas animated films ever.
The Santa Clause
The Santa Clause is a light and family-friendly Christmas comedy in which Tim Allen made his film debut. As Scott receives his son on Christmas Eve and learns that his ex-wife and her new husband have told the young boy that Santa Claus does not exist, he not only realizes, with his son by his side, that Santa really does exist, but more importantly that he inadvertently killed him and must now take his place. First thinking it was a bad dream, Scott now has to get used to the idea when he suddenly gains 30 kilos, his hair turns white and a big white beard grows on his face. A family Christmas movie par excellence, you never get tired of watching The Santa Clause.
Miracle on 34th Street
With a first film version dating back to 1947, then a television version in 1973, Miracle on 34th Street was brought up to date in a wonderful way in 1994 by director Les Mayfield. Every year, Macy's Department Store hosts a huge Thanksgiving parade featuring Santa Claus. However, when the man who was supposed to play the mythical character arrives at the station drunk, a man must be found to replace him. That's when Kris Kringle inherits the role of Santa Claus. Loved by all, he will try to convince Natalie, a young girl much too mature for her age, that Santa Claus really exists. But isn't Kris Kringle the real Santa Claus? Miracle on 34th Street knows how to make us happy and put us in the Christmas mood every time.
Jingle All the Way
Christmas, although a wonderful holiday, is a stressful time for many. Preparation, gifts, food; sometimes you don't know where to turn. Jingle All the Way is a comedy that depicts exactly this frenzy as a father tries by all means, on December 24, to find the Turbo Man figurine that his son fervently wants to receive at Christmas, just like all the other children, and that he forgot to buy. Finding one of these famous figurines will be quite an adventure! Directed by Brian Levant and starring a brilliant Arnold Schwarzenegger, this film released in 1996 is a pure delight that thrills us every time we watch it.
Jack Frost
Troy Miller's Jack Frost, released in 1998, is both funny and touching. Michael Keaton plays the title character who is a singer and who tends not to keep the promises he makes to his son Charlie. One day, Jack dies in a car accident, leaving his wife and son in mourning. However, the following year, Jack resurrected as a snowman. At first rather frightened, his son Charlie will have the chance to have excellent moments with his father later on. It's impossible not to shed a little tear when watching Jack Frost, but at the end of the day, this film always makes us feel good.
Dr. Seuss' How the Grinch Stole Christmas!
Released in 2000 and directed by Ron Howard, Dr. Seuss' How the Grinch Stole Christmas! is a must-see for the whole family this holiday season. This wacky fantasy comedy starring Jim Carrey as the Grinch is absolutely delightful. This film tells the story of the Grinch who had to go into exile from Whoville to isolate himself in a cave on Mount Crumpit with his dog Max. Having had an unhappy childhood, he hates Christmas and all the related festivities. One day, however, little Cindy Lou, who wants to learn more about this so-called monster, climbs the mountain to knock on its door. After an unsuccessful attempt to mingle with the inhabitants, he returned home with the idea of revenge by disguising himself as Santa Claus and stealing all the gifts, trees and Christmas food. Nevertheless, he will have to face the obvious: the Christmas spirit goes far beyond material goods and festivities. This film is perfect to get into the holiday mood, but also to remind us of what is really important at this wonderful time of year.
Love Actually
A romantic Christmas comedy par excellence, Love Actually has been an essential feature since its release in 2003. We follow more than a dozen characters, embodied by a spectacular line-up of actors, who intertwine in a holiday season full of twists and turns. A true ensemble film, it follows the characters' budding, passionate, declining or even tumultuous love stories in a sentimental and humorous story against the backdrop of Christmas. Love Actually is the ultimate feel-good movie we all need during this fabulous winter season.
Elf
Elf, directed by Jon Favreau and released in 2003, is a must-see for the Holiday season. Will Ferrell is found in the role of Buddy, a human abandoned by his parents as a baby and taken in by Santa Claus and his elves. However, as he grows up, he will have to face reality: he is not just another elf. He will, therefore, set off on an adventure, leaving the North Pole for New York to find his biological father. Buddy will have difficulty adapting to the modern world and will experience several adventures, each one funnier than the next. Elf is a family Christmas comedy perfect for an entertaining evening of candy eating!
The Polar Express
A magnificent animated film by Robert Zemeckis released in 2004, The Polar Express tells the story of a young boy who is beginning to doubt the existence of Santa Claus. One night, he boards a mysterious train that takes him to the North Pole with other skeptical children. Will they start hearing Santa's bells again, a sign of their faith in him? A truly fantastic and enchanted tale, The Polar Express is a perfect story to put you in the holiday mood and restore faith, even if only a little bit, in the magic of Christmas.
There are many cinematographic works dedicated to the holiday season, but some, like those mentioned above, are among the best family Christmas movies ever. Don't hold back from watching them all now to get you in the spirit by December 25!
---
Cover photo: IMDb | © 2004 Warner Brothers