Halloween Horror Nights: What you need to know before going
Universal Studios' Halloween Horror Nights are ideal to immerse oneself in a perfectly spooky atmosphere.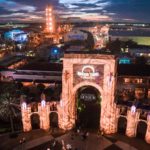 Many Halloween fanatics are constantly looking for thrills during this time of year. Horror movies, haunted houses, thematic events; anything that can make their evening more frightening is welcome. However, when it comes to horrific Halloween events, there is one that should immediately come to mind: Halloween Horror Nights organized by Universal Studios. If you are in Florida between mid-September and early November and you are a horror buff, you should not miss this event at all. However, you have to be well prepared to fully enjoy this horror evening. Here are 10 things to know before you attend your very first Halloween Horror Nights, one of the most popular Halloween events in the world.
Advertisements
Choose the right day
Like any temporary popular event, this Halloween event attracts many horror enthusiasts, often on specific dates. Of course, October weekends – Friday to Sunday – are much busier. It may therefore be a good idea to choose a Wednesday or Thursday if you can do so in order to avoid waiting in line for hours to visit each haunted house.
Advertisements
Buy your tickets in advance
Please note that even if you visit the Universal Studios amusement park during the day, you must still purchase additional tickets for this spooky event. That's why buying your tickets in advance can be advantageous; there are packages combining both activities that could be economical. It goes without saying that getting your tickets in advance will also save you a long wait at the ticket office on site!
Advertisements
Plan your evening
The horror evenings organized by Universal Studios offer a wide range of activities. In order to optimize your evening and participate in the haunted houses and scary areas that attract you the most, do not hesitate to browse through the map of events before the fateful evening. This way, you maximize your chances of having time to do everything you wanted before the night ends.
Advertisements
Eat before entering the event venue
Again, when you are on the site, you will certainly want to spend as much time as possible participating in the activities. So you won't want to waste precious minutes looking for where to eat and what to eat. In addition, eating your meal outside the Universal Studios site will save you a lot of money. However, if you have to eat on site for any reason, the food court on the second floor of the Universal CityWalk offers the lowest prices and more visually appealing dishes than those offered directly on the event site. And don't hesitate to visit Mel's Drive-In near Hollywood Boulevard, if only to take a wonderful picture!
Visit the amusement park the same day
If you're going to Universal Studios for Halloween Horror Nights, why not take the opportunity to visit the amusement park during the day? In addition to enjoying special prices for both activities, you will also save time in the evening. Indeed, when the daytime site closes, while waiting for the start of the night festivities, you will be taken to a specific area of the park, without having to leave the site; you will therefore already be on site and will not have to queue to enter it at the appropriate time. This is a great advantage over visitors who did not have this brilliant idea!
Arrive early… or late
If visiting the amusement park during the day is not part of your plans at all, make sure you arrive as early as possible before the start of the event. The earlier you start queuing and enter the site quickly, the faster you can enjoy the attractions before all visitors are on site and increase the waiting time for each activity. On the contrary, if you cannot arrive very early, consider the option of arriving a little later. Doors open at 6:30 p.m. and the site generally closes at 2 a.m.; people arriving for the opening are likely not to stay until closing, so queues for the various activities are much shorter when the evening is more advanced.
Don't wear a costume
It is simply forbidden to wear a costume when you attend this Halloween event. The site is full of effects, shows and artists in action, so it is important that visitors are easily recognizable. Wear everyday clothes and don't forget to check the weather to dress appropriately.
Don't bring your kids
This event is not like your neighbour's little "haunted house"; everything is set up to scare adults, even teenagers. Children under 13 years of age are therefore prohibited from entering the site, but be careful; taking your children under 18 years of age is not necessarily recommended. Be sure to assess the situation carefully so that you don't have to leave in a hurry because your teen can't stand being on the site anymore.
Wear your sunglasses
As strange as it may seem, visiting haunted houses during the day can be a little difficult; the contrast between daylight and the darkness of the house may prevent you from seeing properly for a while. If you wear sunglasses outside and remove them once inside, the transition of light will be much less and you will be able to enjoy the moment more as you will see around you.
Start at the end of the site
As mentioned above, the event created by Universal Studios attracts a very large number of horror and thrill seekers. When entering the site, it must be noted that most people rush to the first haunted house they see, which leads to high traffic at the beginning of the site, while the rest of the event is much less crowded. So why not visit the site backwards? Go to the end of the site and retrace your steps to enjoy the activities; you will find much shorter line-ups!
If you are a Halloween lover and love thrills and horror, you absolutely must experience Universal Studios Halloween Horror Nights at least once in your life. If you don't visit Orlando during this time of year, be aware that the event also takes place in California, Singapore and Japan parks! Visit the event website for more details about the different sites.
---
Cover photo: Universal Orlando Resort