Top Body Challenge: Everything you need to know about this sporting trend
The world of sport, like fitness, is full of trends. The Top Body Challenge is one of them. What exactly is this sports program and to whom is it addressed? Discover it now!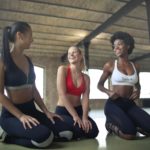 Moving your body is essential in maintaining good physical health, as is maintaining a healthy diet. As a result, every year, gyms are invaded by many people who want to follow a sports program to strengthen their muscles, improve their cardio or lose weight. There is obviously a ton of trends in the world of sports, fitness and weight loss. One of them is the Top Body Challenge.
Advertisements
What is the Top Body Challenge?
The Top Body Challenge (TBC) was created in 2014 by the instafamous gym-obsessed Sonia Tlev and Lucile Woodward, a sports coach. This is a 12-week sports program that you can do in the comfort of your own home. No need to hire a fitness trainer or get a gym membership, you'll be working all your muscle groups. The goal is to promote weight loss while increasing muscle strength, in short, to burn as many calories as possible quickly in order to get the body of your dreams, without spending a fortune at the gym. Obviously, you need basic equipment to successfully complete this sports program:
Yoga mat;
Skipping rope;
2 kg dumbbell and a 4 kg dumbbell;
Sonia Tlev app available for Android and iOS or the PDF of the TBC.
Another advantage of the TBC is that it includes a nutrition program. In fact, Sonia Tlev and nutritionist Steven Tordjeman have developed a guide to help you eat healthy while achieving your weight loss goals. It's like having your own personal trainer and nutritionist with you at all times.
Advertisements
Who is this challenge for?
Since this is a 12-week program, each training session is relatively short in duration, ranging from 30 to 45 minutes. However, you need a good dose of motivation at the beginning, because the Top Body Challenge is composed of 5 training sessions, from Monday to Friday. However, it is possible to do the TBC whether you are a gym fan or not since the workout plan is so easy to follow. Your fitness goals will finally be attainable.
Advertisements
Some physical exercises of the Top Body Challenge
As mentioned above, the TBC includes 5 training sessions of various workouts. The best part of these difficult and intense workouts is that you don't need many types of weights. All you need is your bodyweight. For example, during the first week, you can do abdominal and thigh exercises on Monday for 30 minutes, skipping rope on Tuesday for 45 minutes and strengthen your arm and butt muscles on Wednesday for 30 minutes. You can also bike for 45 minutes on Thursdays and work out your entire body on Fridays during a 30-minute workout. Although each session is of short duration, the intensity is high. These are circuit training sessions designed to sculpt your body, burn fat and boost your endurance. Don't forget to include a cool down and some stretches to ensure your body recovers.
In short, the Top Body Challenge is probably a good way to build up your body strength, tone up and lose weight quickly but you also need to include a balanced diet in this equation. These home workouts require a lot of motivation to succeed if you want this fitness program to actually work and give you results you're proud of (hello six pack!). The short exercise sessions developed by Sonia Tlev and Lucile Woodward will give you a flat stomach, leaner muscles and a full body workout but only after you complete the intense sweat sessions, there's no doubt about it!
---
Cover photo: Bruce mars | Unsplash