11 coffee recipes to feed your addiction in a whole new way
Why load your credit card for a pumpkin spice latte when you can make one of these amazing far-from-basic coffee recipes at home.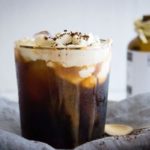 Rumour has it that coffee has the potential to reduce oxidative damage affecting white blood cells. But let's face it, the fact that your cup of Joe might be good for you has nothing to do with your undying morning ritual in a mug. What might change your coffee drinking habits, however—and by change we mean increase—are these 11 caffeine-rich recipes. Get ready to switch your winter afternoon hot chocolate for a spiced-up version of the traditional cup of coffee and ever trade your usual summer cooling drink for one of these delicious cold brew mixes, because coffee as you know it just got a seriously sweet upgrade.    
Advertisements
Hot
Nutella Cappuccino
Combine the world's two favourite breakfast items and you have @Aline_Made's take on Moka coffee which is also the best version possible because Nutella.
Honey Coconut Latte
For a warm, rich, sweet and incredibly comforting cup of coffee at any time of the day, winter like summer, give this original concoction a try.
Mint Coffee
After Eights are your thing? Drop one in a hot espresso for a seriously rich and minty treat in coffee form. You can also add crème de menthe to a black cup of Joe for a creamy, strong and non-chocolatey hot beverage.
Snickerdoodle
This one is bound to become a Christmas-time favourite. One that you end up savouring all year long, as this festive comforting extra flavourful coffee might very well rival with girl scout cookies.
Dirty Chai Latte
If you love your spices and you love your caffeine, you will adore the dirty chai, which is basically a chai latte and a coffee latte's lovechild.
Bulletproof
Fans of the ketogenic diet already know this rich recipe. And if you are a fat-adapted eater and don't already sip bulletproof coffee, you are missing out.
Pumpkin Spiced Latte
Alright, so we joked about it and then we included it on the list… But what's wrong with being basic anyway. We'll tell you what is wrong: missing out on the autumnal deliciousness that is homemade pumpkin spice latte.
Advertisements
Cold
Boba Iced Coffee
You've heard of boba tea, but have you ever gotten your hands on a boba iced coffee? It's pretty much the best non-alcoholic drink to enjoy on a sunny afternoon.
Coconut Water Iced Coffee
So, we know we just said that boba iced coffee was the best virgin summer drink, but you have got to try the most exotic cold brew recipe ever. All that's missing is the island in the Caribbean.
Rose Lavander Honey Latte
This iced coffee means business. It is the meeting-the-in-laws-for-the-first-time of cold brew recipes. The process is a little more intricate, but you are worth it, and certainly won't regret it. This fancy iced coffee is your best weapon as well as your sweetest treat.
Iced Caramel Latte
This decadent dairy-free caramel iced macchiato is the closest you'll get to ice cream for breakfast with the added bonus of caffeine. Acceptable in the morning, fit for dessert.
Whether you like your coffee boiling hot, ice cubes cold or you like to adapt your brew temperature according to the weather, there is a decadent, original, and honestly life-changing, coffee recipe to bring a little change from your usual cup of Joe.
---
Cover photo credit: @goodmylkco | Instagram