6 reasons to shop on Cyber Monday instead of Black Friday
Still feel stuffed after your Thanksgiving dinner? Forget about waiting in the cold on Black Friday, stay at home and shop on Cyber Monday in your pyjamas.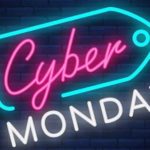 A time to spend with family and friends, to eat delicious turkey (or cauliflower roast), to drink some wine in front of a roaring fire and to have meaningful conversations, American Thanksgiving is also the day before the biggest sale of the year: Black Friday. Yes, the day after you give thanks for all you have and eat up your weight in stuffing, gravy and mashed potatoes, you run out and wait in line to buy that television, microwave, video game console, etc. you absolutely needed. Charming. If you don't want to get knocked down by a 300 lbs man or fight with an elderly woman for the last blender, stay home on Friday with the family and wait for Monday to shop online to stay sane. Here are 6 reasons to shop on Cyber Monday instead of Black Friday but where does Black Friday and Cyber Monday originate from?
Giant crowds of eager shoppers the day after Thanksgiving have flooded stores since the 1960s. It is said that policemen called it Black Friday since they had to work long shifts on this day to ensure order in the streets because of the shopping mayhem. Online shopping, on the other hand, has grown exponentially since the middle of the 2000s when people started shopping online for their holiday gifts on the Monday after Thanksgiving. It was only in 2005 that Cyber Monday was coined. These are, of course, the biggest online shopping days of the entire year and seem to come earlier every year.
Advertisements
It's international
This online sale is international, meaning it is available to people in Brazil, Germany, South Korea, etc. Black Friday sales, on the other hand, are usually more store-oriented. People living outside the United States don't have to actually go to the country to take advantage of the deals since they practically have the same deals online. Most countries now offer incredible deals this time of year since they don't want to miss out on any shopping opportunities. If you want a television or designer purse on sale, it is now easier to get one since you can buy it online on American websites.
Advertisements
No crowds
Do you really want to get up at 3 am, go outside on a cold November night, wait in line with hundreds of other people, push your way into an incredibly crowded store just to buy a tablet when you can stay at home (in your pyjamas) and easily buy it online for about the same price? Unless you enjoy the sweaty and frantic fight, we highly suggest you stick to the comfort of your bed or couch for this activity.
Advertisements
Save time
Did you write a list of all the stores you wanted to visit? Did you make a blueprint of the mall? Rehearsed your mall route? If yes, you are a bit crazy (no offence) and you are also wasting a lot of time. Going from store to store in a crowded and frenzied mall is the worst idea. You might get lost because you're so stressed, you might have to wait in line since often stores have a limited amount of people they let in and let's not start with parking. Also, what if you get to the fourth or fifth store and the items you wanted are out of stock? By shopping online, you can have many tabs open with the different stores you are interested in. You might not get your 10,000 steps in on Monday but at least you won't have gone to the mall to be disappointed and frustrated.
Advertisements
Easier to compare prices
Not only do you save time when you have numerous tabs open on your computer but this also makes it easier to compare prices. Find better deals faster since you don't have to go from store to store. You won't regret buying your electronic device at Best Buy instead of Walmart for example since you'll compare prices in real time on your screen.
Surprise discounts
Last-minute additional discounts are announced during flash sales when big retailers compete against smaller ones. Retail giants like Amazon, Walmart and Best Buy will ensure to lower their prices if smaller online shops offer bigger discounts. Make sure you keep a few tabs open so you can check in real time the prices on different websites.
Take rational decisions
When you're home, you don't have the competitive streak that makes you really excited and pushes you to buy things just because other people are buying them. Maybe 30 people are pushing and shoving each other to get that toy, kitchen appliance or video game but do you really need it? This gang mentality can really warp your rational mind. When you're alone and you don't have that direct contact with the items so you don't feel stressed or a sense of urgency like when you're in the store.
So, if you're an electronic-seeking shopper, you might find better deals in-store on Black Friday but if you're more into clothes, shoes or beauty items, Cyber Monday has better deals. If you don't mind waiting a few days or even a few weeks for your new purchases to arrive, go ahead and skip out on Black Friday. What could be better than shopping in your pyjamas?
---
Cover photo: @lilueacero/Instagram