The vegan cheese brand bible
The days when vegans had practically no (good) alternative to cheese containing dairy products are over. The choices are now many, varied and tasty!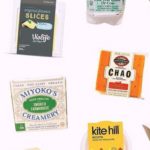 Vegan cheese has come a long way. There was a time when wannabe cheese concoctions could hardly be put on pizza or made into a grilled cheese, let alone be eaten on its own. Fortunately for all vegans and dairy-free cheese lovers out there, the growing popularity of free from milk diets has made way for some serious improvement in the cheese alternatives category. Shredded, blocks, sliced, soft, firm, Parmesan-style, provolone, cheddar, cream cheese, feta, Camembert, halloumi, and more, brands now do it all. Sure, you can make your own, but why bother when you can find exactly what you want and need at the local grocery store. Not sure which one to get?
Here's a guide to the best vegan cheese brands. Keep in mind that these are some of the most popular big names which are more widely available. However, some of the best finds are local, underground companies produced and sold on a small scale. This means they might not have made this list, but might very well deserve a spot among these tasty dairy-free cheeses brands. So don't be afraid to try and encourage local products, you never know when you are going to fall in love.
Advertisements
The big names
Field Roast
Tofutti
Violife
Miyokos
Follow Your Heart
Bute island foods Sheese
Kite Hill
Nuts for Cheese
So Delicious
Advertisements
Some hidden gems
Treeline
Zengarry
Gusta
Cheese the Queen
Special mention to Daiya which is a pioneer of the neo-vegan cheese era and helped establish the market for such products. Unfortunately, we believe it to fall short of previous vegan cheese brands taste and texture-wise, but feel free to try it for yourself. All that's left to say is enjoy your pizza, mac and cheese, nachos and vegan everything cheesy, as it is no longer a thing of the past.
---
Cover photo credit: @selvabeat | Instagram