Costa Rica: yoga retreat centers located in a paradisiacal setting
Yoga retreats are very popular. Indeed, they are found everywhere. If you want to do yoga workshops, why not travel to Costa Rica? You can enjoy the paradisiacal landscape of this country while relaxing, meditating and doing breathing exercises.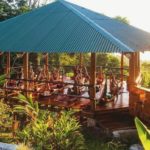 There are more and more yoga and meditation retreats out there. It is indeed possible to participate in yoga classes in specialized centres around the world. Why go to a yoga school in the heart of the city when you can get the benefits of yoga and recharge your batteries in a heavenly setting? This is what many Costa Rica yoga retreat centers offer. Here are 5 places to go to find inner peace and a change of scenery!
Advertisements
Montezuma Yoga
This yoga retreat located in Costa Rica offers much more than just yoga classes. Indeed, in addition to being able to take courses in yin yoga and Vinyasa, you can also take surf lessons. It is also possible to have a relaxing wellness retreat. In any case, you will have a breathtaking view of the sea, even when you greet yourself in the sun, and can explore Isla Tortuga for a day with your fellow travellers to enjoy snorkelling. It's a perfect place to let go and focus on who you are.
Advertisements
Anamaya Resort
Anamaya Resort is another place where you can go for yoga classes in a heavenly setting. Although this yoga centre is about 5 hours from San Jose, it is really worth it. In fact, Anamaya Resort overlooks a splendid tropical forest and breathtaking cliffs. You can enjoy organic food and relax in the spa or with a massage. You will also have the opportunity to take surfing and cooking lessons. Let's bet that your stay in this yoga centre will be unforgettable and relaxing!
Advertisements
Believe Surf & Yoga
Believe Surf & Yoga is another place where you can surf and practice yoga on a daily basis. Located in Santa Teresa, this retreat offers you travel packages of 4 to 7 nights and includes breakfast.
Advertisements
El Sabanero Eco-Lodge
El Sabanero Eco-Lodge invites you to do yoga in the heart of the Cañafistula Valley. By going to this yoga retreat, you will have access to a spectacular landscape as well as beaches that will certainly not leave you indifferent. In fact, Playa Avellanas, Playa Negra, Playa Junquillal and Tamarindo beaches are all nearby and are considered to be among the most beautiful in Tamarindo, Costa Rica. In addition to practicing yoga with a teacher at El Sabanero Eco-Lodge, you can also do several outdoor activities such as horseback riding, zip lining or rafting. This yoga retreat is ideal for getting back into good physical health while taking a vacation.
Indigo Yoga Resort
Indigo Yoga Resort is another great destination to practice yoga and regain your inner peace. A few hours from Liberia's airport, this yoga centre allows you to practice your favourite activity and rest on the beach when you feel like it. You will love the enchanting setting of this yoga retreat as well as the many activities offered to travellers, including stand up paddleboard and visits to the wildlife refuge.
Going to Costa Rica for a yoga retreat is the right thing to do if you want to fill up on the magnificent landscapes while focusing on the present moment and regaining your vital energy. It is also a perfect country to enjoy water sports such as surfing. That's why many companies, such as Surf Expedition, offer you the opportunity to do surf and yoga retreats away from the resorts.
---
Cover photo: @yogaincostarica | Instagram