10 free things to do in New York City
Travelling doesn't automatically rhyme with spending a fortune! Discover 10 free things to do in New York City for your next visit to the Big Apple!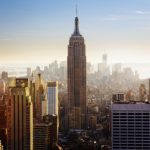 When we go on a trip, we tend to set aside a large amount of money for the activities we are going to do, which is a good thing. However, it is possible to travel without spending a fortune. It is indeed possible to visit any country with a limited budget. You can explore a city by choosing free activities. If you are in New York City, don't hesitate to do one of these activities; not only are they interesting, but they will also keep you within your budget since they cost nothing at all! Here are 10 free things to do in New York City.
Advertisements
Discover the Brooklyn Bridge
You have to visit the huge Brooklyn Bridge if you visit the Big Apple. Connecting Manhattan to Brooklyn, this 19th-century bridge offers you a spectacular view of the surrounding area. You can cross it by car, bicycle or on foot. In any case, it is well worth the detour. Do like many tourists before you and see with your own eyes this architectural construction which is considered one of the key symbols of the city of New York.
Advertisements
Enjoy a ride on the Staten Island Ferry
Another way to get a great view of New York without spending a penny is to take the ferry from Manhattan to Staten Island. You can borrow it both during the day and in the evening, which allows you to see the famous Statue of Liberty right on the water.
Advertisements
Stroll through the streets of Chinatown
Many places in the world have a Chinatown, including Montreal and London. New York is no exception with its impressive Chinatown. You should take the time to venture there. In addition to the statue of Confucius, you can visit the Edward Mooney House. It is a house built around the year 1785 in various architectural styles. Columbus Park is also worth discovering as it is the only park in this neighbourhood. You have probably already seen it in the film Gangs of New York.
Advertisements
Walk through Little Italy
After your visit to Chinatown, why not discover Little Italy? These two neighbourhoods are close to each other, so you can easily visit both in one day. Be aware that if you are in New York during the month of September, the Italians in this area celebrate San Gennaro. The streets are extremely lively and festive!
Wander around in Central Park
Central Park is a New York landmark. In fact, it is the most visited park by tourists. This green space, which covers more than 341 hectares, is managed by the Central Park Conservancy and provides New Yorkers and tourists with an opportunity to experience some green spaces in the urban landscape. This park is an ideal place for a walk, to devour a novel or simply have a picnic when the weather permits. This should definitely be included in your top free things to do in New York City.
Discover the Bushwick street art
If you are a street art lover, you can find graffiti art in Brooklyn's Bushwick area. You will be able to see the works of distinguished artists such as Banksy (who recently destroyed one of his paintings at a sale in London), Blu, Shepard Fairey, Above and many others. All you have to do is take a walk in the streets of this neighbourhood where art in all its forms manifests itself!
Visit the New York museums
New York has several museums that you can visit for free. You can visit the Museum of Natural History, the Brooklyn Museum and the New York Public Library without spending a single penny. It is pleasant to immerse yourself in the culture of another place when you travel, so why not do it through museums?
Go see St. Patrick's Cathedral
St. Patrick's Cathedral is a 19th-century Gothic church. This cathedral impresses not only by the beauty of its architecture but also by its dimensions. It also has an organ with 3920 pipes and a rosette made by Charles Connick measuring 8 m in diameter.
Go on a walk on The High Line
Discovering The High Line is a great way to spend energy while keeping your money in your wallet! Indeed, The High Line was previously a suspended railway. It is now a suspended "walking path" of 2.3 km. You can, therefore, walk there between 7 am and 10 pm daily, except when it snows. The High Line gives you a spectacular view of some of New York's neighbourhoods. It is therefore in your best interest to walk here during for an afternoon walk!
Let yourself be swept away by the beauty of Grand Central Terminal
A visit to Grand Central Terminal is a must when you are in New York. You will simply be captivated by the beauty of this place, which is the largest railway station in the world. If you look up and look at the ceiling of the station hall, you will notice the 2500 sublime paintings by the artist Paul César Helleu. Another thing to see besides the station's shops is the four-sided clock of the Grand Central Terminal, which is worth a fortune.
It is possible to save money when travelling by doing free activities, such as these 10 free things to do in New York City. You can also save money with a few simple tips. If you want to learn more about our tips for low-budget travel, read our article Find out how to travel cheaply around the world.
---
Cover photo: Todd Quackenbush | Unsplash