10 of the most sumptuous Greek islands to discover
Greece, with its thousands of islands, may seem complex to visit, but here are 10 of the most sumptuous Greek islands to discover.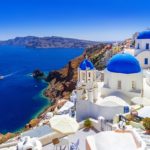 Greece has been one of the favourite destinations for travellers in recent years and the reason is simple; it is certainly one of the most beautiful places in the world. Composed of thousands of islands scattered here and there in the Aegean and Ionian Seas, there is no need to try to count all the beaches that this country is blessed with. Greece is really a unique place, but exactly; with so many islands to visit, how to choose where to start? To help you make a choice, we present you 10 of the most sumptuous Greek islands you must absolutely discover.
Advertisements
Amorgos
If you are looking for peace and quiet, Amorgos is the ideal place. Generally attracting only solitary travellers, hikers, divers and pilgrims, the island has less than 2000 inhabitants, but a much higher number of goats. Nevertheless, you will find some bars open all day and until late at night if you want a more festive atmosphere, such as Jazzmin, Pergalídi and Seladi. However, Amorgos can be difficult to access; when the winds are too strong, ferries do not go there and smaller boats from Athens take 8 hours to complete the journey. It may, therefore, be better to have a plan B if the weather is not on your side.
Advertisements
Syros
The island of Syros is home to the magnificent city of Ermoúpoli, which was built on two peaks of different religions in the 19th century. Its marble piazzas, princely manors and a miniature replica of La Scala add an Italian touch to this festive city that hosts festivals of animation, dance, digital art, cinema and music, both classical and jazz, as well as rembetiko, a typical Greek blues. Formerly Greece's shipbuilding centre, Syros has an incredible cultural cachet. This island may be a little less known for the splendour of its beaches, except for those of Delfini, Varnarousa or Aetos in the wild north, but if you are a fish and seafood lover, you must absolutely go for a bite to eat in one of its seafront taverns.
Advertisements
Mykonos
Mykonos is the ideal place for travellers prone to celebration and debauchery. From morning to night, live the bohemian life with models, celebrities, drag queens or bodybuilders; in Mykonos, all types of partygoers can find a place that suits them, whether it is Scorpios, Astra or Jackie O. If you feel the need to escape debauchery for a while, don't hesitate to visit Fokos tavern or Kiki's, who will be happy to serve you in a quieter atmosphere. You can also opt for a cruise to Delos, an archaeological sanctuary and nearby island with a temple dedicated to Apollo, the Greek god of light.
Advertisements
Santorini
Probably the most famous island in Greece, Santorini is picture perfect with its typical white and blue decor. A romantic destination par excellence, its black sandy beaches, breathtaking cliffs and breathtaking views can only contribute to making your holiday absolutely perfect. In Santorini, there is nothing more pleasant to do, except to admire the view, taste fine wines in the cellars of Sigalas and Vassaltis, take a boat trip to the crater of Nea Kameni and the hot springs of Palia Kameni, visit one of the most beautiful bookshops in the world, Atlantis Books, and go for a meal at Franco's, Botargo or Selene.
Crete
If you want to enjoy local organic products, the island of Crete is the destination of choice for you. You will not be able to resist the delicious dakos, Cretan-style bruschetta, or octopus dipped in olive oil for which the island is famous. Accompanied by local wine or the famous tsikoudia, a typical Cretan aperitif, your taste buds will inevitably find themselves in paradise. Considered the largest island in Greece, Crete is home to wonderful ancient ruins to visit, as well as snow-covered peaks and a large number of beaches. Don't miss the Minoan palace of Knossos and the Samariá Gorge, among other must-see places.
Symi
With the most beautiful port in Greece, Symi will charm you with its neoclassical style in the colours of apricot and peach. Located very close to the Acropolis, visiting this island can be a good challenge for your legs, but the detour is certainly worth it. After a long day of walking, you can relax on one of its beaches: Ayios Yorgos Disalonas or Marathounda, for example, which you can reach by walking or by boat. Then go to the Tholos tavern to enjoy delicious fried baby shrimp while admiring the splendid view of the port.
Astypalaia
Accessible from Athens by a short one-hour flight, Astypalaia will bring you back to Earth with its soft, slow and elementary atmosphere. Relax on Livadi beach, a seaside resort surrounded by citrus orchards, and enjoy a bite to eat on the magical terrace of the Castro bar, which literally seems to float above the archipelago. If you are looking for peace and quiet, you can also go to Maltezana, an old fishing village, and rent a boat to go to the small islands of Koutsomiti and Kounoupes. You can also go to Vathy, a lagoon where you can see erotic graffiti carved into the rocks about 2500 years ago and where you can eat at the Galini tavern.
Hydra
Hydra is the Greek island of choice for artists. Greece's greatest art collector, Dakis Joannou, regularly visits and invites renowned artists such as Matthew Barney and David Shrigley to create installations in the former Hydra slaughterhouse. In summer, you can even visit exhibitions in the island's school. Celebrities such as Leonard Cohen, Brice Marden, Sadie Coles and Juergen Teller have even adopted it, some of whom own a house there. Located less than two hours from Athens, Hydra is crammed with stars during the weekend. Don't go if your goal is to relax on a beach since it has almost none, but you can always find a sunny place to sunbathe or dive into the clearest water in the world.
Cephalonia
Made famous in 2001 with the film Captain Corelli's Mandolin, Cephalonia is not disappointing. There is the sumptuous beach of Myrtos, the magnificent beach lined with Horgota pines and Mount Ainos, a national park of wild deer and horses that rises to dizzying heights. You can participate in a 4×4 safari, snorkel in Dafnoudi or Emblissi in the electric blue waters and enjoy seafood at Tassia in Fiskardo as well as local Robola and Muscat wines. The organic white Muscat of the Haritatos estate is a must-try wine. Kefalonia does not have the most pleasant climate like in Santorini, for example, but you will find a quieter and more isolated Greek island.
Skopelos
You have dreamt many times before the enchanting scenery of the film Mamma Mia!? Make your dreams come true by going to Skopelos, the Greek island where the film was shot! You will be more than charmed by its smooth pebble beaches and transparent waters where you can fish for starfish. Thanks to these numerous plum orchards, you can enjoy this fruit in all its forms, both in pastries and baked with meat or freshly picked from a tree. Feel free to explore the island and sing some of ABBA's tunes!
Obviously, this list of 10 of the most sumptuous Greek islands is far from exhaustive, as there are thousands of choices, but it is a good starting point. And while you're in Greece, don't hesitate to return to the mainland for at least a day to visit Athens, the country's capital! The citadel of the Acropolis and the Parthenon are also unmissable when in Greece.
---
Cover photo: Bigstock | Patryk Kosmider