16 of the best islands in the world for the perfect vacation
Looking for a slice of paradise on earth? You're at the right place! Here are the 16 best islands in the world for the perfect vacation.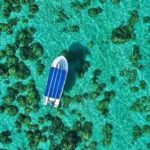 Islands are a wonderful place to escape to: from white sand beaches to dizzying rocky cliffs and lush forests, these little slices of paradise all showcase awe-inspiring landscapes you'll remember your whole life. No matter what kind of traveller you are, you can find an island that embodies you perfectly. Europe, Asia, North America, Africa, it doesn't matter where you go but what you want to experience when you get there. Whether you are at your work computer, daydreaming about your next dream holiday or actually contemplating visiting one of these islands, here are 16 of the best islands in the world for the perfect vacation.
Advertisements
Galapagos Islands
Land of the blue-footed boobies, flightless cormorants and Sally lightfoot crabs, the Galapagos Islands are a true paradise for the fauna and flora lover. These islands, off the shores of Ecuador, are filled with animals and plants that can only be found here. Even if these islands are located in the South Pacific, don't expect the same feeling as being in the Bahamas or other Caribbean-style islands. Even if people do live here and tourists are welcome, the Galapagos Islands are a place to truly appreciate nature in all its splendour… Not for a massage and mani-pedi. We suggest you go in February when it is the low season so you can take full advantage of all that the islands have to offer.
Advertisements
St Barthelemy
Now, if you are the type of person who enjoys glitz and glamour, St Barths is the ideal place for you. Located a stone's throw away from Anguilla, this tiny Carribean island is a place to party with the rich and the famous, to recharge your batteries and to enjoy its natural beauty with a hike or yacht ride. This island is perfect for people who like to travel but who don't want to feel too much like a fish out of water: the hotels are luxurious and accommodate tourists very well. Celebrity migration usually happens around Christmastime. Who knows? You might party with Leonardo DiCaprio and Kendall Jenner if you're lucky.
Advertisements
South Island, New Zealand
New Zealand is composed of two giant islands and if you have the time and money to visit them, especially South Island, we highly recommend you do. Incredible national parks filled with monumental mountains, beautiful beaches and crystal clear lakes will make any adventure junkie ecstatic. You can surf, ski and hike all on the same day practically! Since New Zealand's population is quite low compared to the vastness of its territory, they have tons of large spaces filled with incredible scenery. People are nice, the food is tasty and the surroundings are jaw-dropping. What more could you ask for?
Advertisements
Azores, Portugal
A lesser known European destination, the Azores islands off Portugal's shores are a place to explore. Known as the Hawaii of the mid-Atlantic, the Azores islands have something for everyone: whale watching, hiking, diving, paragliding, surfing, the activities are limitless. It is easy to get from Lisbon to the Azores with low-cost airlines like Ryanair and easyJet. Fans of geology will enjoy discovering all the rock formations, hot springs and craters that sprinkle these islands. After you've had your fun jumping around and paddling about, relax and sip some delicious Azorean wines. What a great end to a great day.
Kauai, Hawaii
Hawaii is a classic island destination and for good reasons. This place is the land of waterfalls, rainforests and coral reefs i.e. paradise. Each island has its own distinct beauty and deserves to be in this list of the best islands in the world but we chose one that makes everyone who visits it totally fall in love: Kauai. Kauai, Hawaii's fourth largest island is known as the "garden island" because of its gorgeous and lush flora. The laidback atmosphere of the island mixed with its abundance of activities creates the ultimate paradise for adventure-seeking individuals and others who are happy just to hang loose.
Naoshima, Japan
Japanese islands, really? Yes! Naoshima, part of the Seto Inland Sea, is a remarkable place for art lovers. Let's just say that you don't visit this island to work on your tan. This island is filled with art museums like the Chichu Art Museum and the Benesse House Musem as well as the iconic pumpkin sculptures from the famous Japanese artist Yayoi Kusama and the Art House Project, a collection of architectural art pieces. You can spend a whole day on this wonderful island to get your art fix and then head back to Tokyo, Osaka, Kyoto or whatever city you wish to see next!
Isle of Skye, Scotland
Land of great poetic beauty and romanticism, Scotland's second largest island will transport you to the time of great knights and beautiful princesses. This island is for the passionate individual who isn't afraid of getting wet and does not fear the cold and mighty wind that comes off the North Atlantic ocean. Prepare to see lochs, moors, mountains and sea cliffs as well as medieval castles that loom over hills. This is quite a popular destination so we suggest you stay clear of this wonderful island during peak months like June, July and August. Rent a car, and explore to get fully immersed in this vast land.
Santorini, Greece
Blue rooftops, white buildings, spectacular views, this Greek island has been turning heads since the time of the great philosophers. Easy to get to by ferry from Athens, Santorini is a romantic destination that will enchant everyone who steps on the island. What should you do in Santorini? Walk around and admire the architecture, taste some wine, learn about the island's history and swim! However, you're not the only one who enjoys travelling to this European island. Around 1.5 million people flock here every year so try to visit in May or September for smaller crowds and cheaper accommodations.
Phuket, Thailand
Phuket, Thailand's biggest island, is like the Carribean of the Andaman Sea: you'll find tons of luxurious resorts, restorative spas and mouth-watering restaurants in the northwest, beach parties on the west coast and a more relaxed atmosphere in the south. If you're a fan of diving, you'll be delighted to know that there are tons of sites where you can explore the deep waters that surround this incredible island. Thai people are welcoming and will show you a great time. Open your mind and your heart and you will never want to leave this paradise on earth.
Vancouver Island, Canada
Friendly people, seaside hikes and quiet fishing villages encapsulate Vancouver Island. You can do city-related activities like visit the Butchart Gardens, the Craigdarroch castle and taste some of the region's wines or go out in nature and hike one of the many trails in the Pacific Rim National Park Reserve and the Strathcona Provincial Park. Visit Tofino to see ancient rainforests, sandy beaches, azure lakes and whale watching.
Mauritius
Off the coast of Madagascar, in the Indian Ocean, there is a small but incredibly beautiful island called Mauritius. Turquoise waters, white sand beaches, rainforests, waterfalls, lagoons, reefs, etc. this earthly paradise is filled with natural beauty. This is, of course, not an easy to get to island but if you're lucky enough to get there, you'll be treated like royalty. The hotels are lavish and offer a five-star service. After you've catnapped and lounged around for a few days, go out and explore the island with its numerous hiking trails, water sports activities and admire the flora and fauna.
Palawan, Philippines
The Philippines is quite exotic and still is a mysterious place for many. This is a place where you find flamingos, water buffalos, lemurs as well as deep jungles and sapphire waters. Palawan is a very long and narrow island with an archipelago of tiny islands. Drop deep gorgeous views, warm and clean waters, this is another slice of paradise that just happens to be accessible to us mortal humans.
Capri, Italy
Gelato! Vespas! Pasta! Lemons! Capri is the ultimate European vacation spot and one of the best islands in the world. Work on your tan, shop a little, eat plenty of delicious Italian dishes, rent an old-fashioned speedboat and explore the grottos that surround this outstanding Italian island. Yes, it might be a tad expensive and pretentious at times but Capri should be on everyone's bucket list. A quick ferry ride from Sorrento, even if you only go for the day, you won't regret a single minute.
Fiji
The South Pacific has tons of sensational islands to visit but one of our favourites is definitely Fiji. With more than 300 islands, it is best to stick to the two main ones: Viti Levu and Vanua Levu. But, you can also rent a sailboat and sail around the (sometimes) deserted islands to really get a first-hand look at the extensive underwater world filled with coral reefs, multicoloured fish and pristine beaches. Land of the slow life, nothing needs to be hurried in Fiji.
Mallorca, Spain
Ready to have fun like a Spaniard? Mallorca, an island off the coast of Spain, will get you moving. A little less known (and maybe a little less party-obsessed) than its neighbour Ibiza, Mallorca can be easily accessed by ferry or plane from Barcelona or by plane from Madrid. The famous painter Miró came here to paint the beautiful landscapes and you're welcome to follow in his footsteps or you can enjoy hiking, cycling, wine tasting, eating local dishes and swimming.
Java, Indonesia
Indonesia, probably the most popular destination of the 2010s, still charms the tourists that flock to its numerous islands. Why Java and not Lombok or Bali? All three are stunning places but Java, located between Sumatra and Bali, is filled with volcanos but also holds the country's capital city, Jakarta. You can easily go from the airport to ancient palaces to beaches. Even though this is the most populated island on earth, the buzz from its people and the sheer diversity of the island creates a unique experience you won't soon forget.
16 distinct but exceptional islands located all over the world for you to explore and that suit all tastes. The best islands in the world are just waiting to be explored. Step out of your comfort zone and visit these outstanding places we are lucky to have on earth.
---
Cover photo: Instagram/@_mauritius_