The 10 best things to do in Brooklyn
Brooklyn is New York City's fun hipster and artsy sister and is too often forgotten! Here is a list of the top 10 things to do in Brooklyn.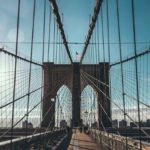 New York City is a place everyone should visit at least once in their life. The amazing energy, the rich cultural attractions, the world renown restaurants, this city has so much to offer! However, many people that go to New York miss out on one of the coolest boroughs: Brooklyn. Manhattan's cool hipster and artsy neighbour has incredible restaurants, parks, shops, art galleries, and wonderful views of the Manhattan skyline. Only a short subway ride away, Brooklyn will charm you and persuade you to explore this borough more often. Now, where to start? DUMBO? Williamsburg? Brooklyn Heights? Park Slope? Bushwick? All these neighbourhoods have their own gems but here are the 10 best things to do in Brooklyn.
Advertisements
Syndicated Bar Theater Kitchen
A movie theatre, really? Yes! This cinephile mecca is a bar and a movie theatre where you can eat and drink while watching a great movie. Tired of popcorn and soda with your movie? Why not choose a kale Caesar, a roasted mushroom sandwich or even fish tacos? Themed movie nights, trivia nights, there's always a fun activity at Syndicated. Check out their calendar to know what's playing, grab a drink, sit back and enjoy a Hollywood classic or a new release at this Bushwick spot.
Advertisements
Prospect Park
This 585-acre park was designed by the same architects who did Central Park in Manhattan. Opened in 1867, the park is open 12-months a year and boasts some great spots to enjoy some fresh air. If you want to go for a run or walk without worrying about cars, go to West Drive to enjoy the lush, car-free path. On the other hand, Long Meadow is a great place for a picnic or for a short nap while soaking up some sun. You can also visit the Brooklyn Botanical Garden, the Brooklyn Museum, and other treasures in this big park.
Advertisements
Graffiti and street art walking tour
Bushwick is probably one of Brooklyn's coolest neighbourhoods. The street art in this hipster neighbourhood is a must-see. Start at Flushing Avenue (Jefferson Street L train) and start your Bushwick Collective tour to admire the phenomenal graffiti art. Artists like Cost, Revs, Enx, Mast, Never, Nekst, 4 Burners and many other international artists have shared their talent with the world on these Bushwick streets. With more than 90 blocks of street art, we suggest you check out the Troutman and St Nicholas areas for the best art.
Advertisements
Roberta's
You can't go to New York (or Brooklyn for that matter) without eating some pizza. From Neopolitan-style pizza to New York Style Pizza and Sicilian Pizza, there are amazing restaurants and counters to discover. After you've marvelled at the street art in Bushwick, head over to Roberta's, THE pizza institution in this neighbourhood. Taking up a whole block, this restaurant serves pizzas, salads, cheese and meat platters, and natural wines. You will probably wait in line for a table on the weekend but you can also take out pizza and enjoy it on a nearby street corner as the cool Bushwick kids do.
Credo beauty
Beauty obsessed? You have to visit Credo Beauty, a mecca for clean, luxurious, indie, and non-toxic beauty brands. Discover fan favourites like Tata Harper, Coola and Goop and other, lesser-known brands like Skin Gym, Mother Dirt and Beauty Chef. If you really want to pamper yourself, book a makeover, facial or clean beauty swap at the 6th Street location in Brooklyn.
Brooklyn Heights Promenade
This beautiful promenade right on the Hudson River is a great place for an afternoon walk or to watch the sunset and see the Manhattan lights twinkle. Walk around 10 minutes towards the Brooklyn Bridge to get to Jane's Carousel, one of Brooklyn's most famous emblems, located in the Brooklyn Bridge Park. Make sure you check online to know when the carousel is open and we suggest you go at dusk to see the lights come on.
Devoción
There are tons of excellent coffee shops in Brooklyn but one of our favourites has to be Devoción. A third-wave cafe serving Fram-Fresh Colombian coffee, Devoción has been serving coffee since 2006 in a beautiful, light-filled space in Williamsburg. Enjoy a latte, espresso or cappuccino with a nice sweet treat to curb your hunger until suppertime.
The Wythe Hotel

Located in a 117 year old former factory, this 70-room hotel has one of the best views of Manhattan since it is located right on the Hudson River. Most people will prefer to find an Airbnb or hotel in Manhattan but if you're looking for a gorgeous and modern hotel in Williamsburg, the Wythe Hotel is the place to be. The wallpaper is custom made by a local designer, the robes are designed by New Yorkers and the bath products also come from New York. Even if you don't stay here, enjoy a happy hour drink at their rooftop bar.
La Vara
With dishes like Pollo Asado (Murray's half chicken, spiced onions, coriander, cumin), Carabineros (imported Spanish red shrimp a la plancha, preserved lemon) and Cochinillo (slow-cooked crispy suckling pig, rose petal quince sauce, chimichurri), this Southern Spanish restaurant will surprise you with its Jewish and Moorish influences. Open for brunch and dinner, La Vara's chefs Alex Raij and Eder Montero know how to transport you to a faraway land.
Dumbo
Cobblestone streets with high-end and trendy boutiques and restaurants, Brooklyn's DUMBO (Down Under the Manhattan Bridge Overpass) is one of the best things to do in Brooklyn. Walk around, visit the PowerHouse arena bookstore, grab a coffee at the Brooklyn Roasting Company or Bluestone Lane and don't forget to take a picture under the Manhattan Bridge overpass!
There are tons of other things to do in Brooklyn but we think you'll have a blast visiting these sights and enjoying some food and drinks at these cafés and restaurants. You can easily spend 2-3 days in this borough to take the time to get to know Manhattan's fun hipster and artsy sister.
---
Cover photo credit: Instagram | @zuckerandspice