Travel to Bilbao: Everything you need to know from A to Z
The lovely city of Bilbao is worth a visit during your next trip in Spain.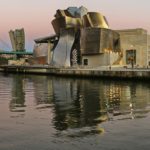 Bilbao, located in the Basque Country, is a city you shouldn't miss when travelling in northern Spain. Here's everything you need to know about one of Europe's most beautiful cities.
Advertisements
Basque culture
First of all, you should know that Spain is not a homogenous country at all, and that Basque country has its own culture. This means Basque people have their own language, traditions, sports, music, dances and more. Be sure to learn a few words to show your respect to local inhabitants.
Euskara, the Basque language, is actually the oldest language spoken in Europe. Furthermore, the Basque people are also the oldest inhabitants of Europe. Learn more on the local history and culture by going to the Euskal Museoa Bilbao, and the museum of archaeology.
Advertisements
Guggenheim and arts
It's difficult to believe Bilbao was nothing but an industrial city at the start of the 1980s, but it's true. Hit hard by the financial crisis of that decade, locals decided to completely reinvent themselves and made a bid to host the new European Guggenheim museum, which they won.
Following this, Bilbao started to get known worldwide for its arts, and the city can now boast many spaces dedicated to arts: the Guggenheim, of course; the Bilbao Fine Arts Museum; the Sala Rekalde Contemporary Art Gallery and the art district in general will keep you busy during rainy days.
Advertisements
Food
Bilbao and Basque Country in general are considered to be foodies' paradise. The local cuisine is full of delicious seafood, and there are numerous very good tables around the city.
If you're more into tapas than the fancy stuff, you will also love Bilbao. Well, first, you should know that tapas are called "pinxos" here, and there are many restaurants dedicated solely to them. Check them out.
Advertisements
Beaches and surf
The city isn't located directly on the coast, but it is close enough that you can easily make a day trip to go to the beach, surf or visit San Juan de Gaztelugatxe, pictured here. Don't miss it out!
Mountains and hike
Bilbao is also located near the mountains, which means there are plenty of hike opportunities around town. Don't hesitate to take the funicular (or walk…) to the top to have a beautiful view from Mount Artxanda.
Architecture
Architecture lovers, you will love the mix of old and new in Bilbao. Lazily walk in the casco viejo or in the art district for the best views. You won't see the time pass.
Aste Nagusia
There are plenty of celebrations in Bilbao, the most famous one being the Aste Nagusia (or Big Week Festival) at the end of August. It basically celebrates anything Basque and it's a crazy celebration that lasts for nine days—don't expect to sleep if you are among the 1.5 million party goers.
All in all, Bilbao should really be on your Spanish travel bucket list if you plan to go.
---
Cover photo: txlopez | Pixabay