Best semi-permanent hair dyes for the commitment phobe
Say yes, then change your mind without problems with the best semi-permanent hair dyes.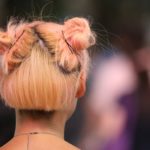 Hair is a big deal. Whether you like to rock a new do every other month or you won't let anyone but François, the hairstylist who's known you since you were 5, touch a single strand of your shiny mane, hair remains a big part of your identity and self-expression. And since the top of our heads holds such a big emotional value, committing to a new colour can be a big move to make. If you're the type to change their mind every two weeks or the one to cry on your way home from the hair salon, temporary dyes are here to let you try out highlights, play with pastels and experience with unassumed big changes. This selection of the best semi-permanent hair dye lets you do you with no commitment.
Advertisements
Lime Crime—Unicorn Hair
This gentle but no less vibrant temporary DIY-friendly ultra-conditioning formula lets you go bright without damaging your hair. The cruelty-free brand offers a Full Coverage line as well as a Tinted one. Both work best on bleached or blond hair, washes out and fades nicely.
Advertisements
Christophe Robin—Temporary Color Gel
Christophe Robin's temporary colours let you do natural in more ways than one. Available in golden blonde, dark blonde, light chestnut and dark chestnut, the gels contain all natural ingredients, are paraben, silicone, oxidants, phthalates and sodium laureth sulfate free. Note that the product works best on natural hair and should not be applied on bleached hair.
Advertisements
eSalon—Custom Color
eSalon brings personalization into at-home coloration. Each set is made-to-order and individually mixed by a colorist to obtain your perfect colour. Besides, their personalized packages include everything you need along with your custom shade.
Advertisements
Clairol—Natural Instincts
In the pharmacy category, Clairol Natural Instincts' semi-permanent, ammonia-free hair colour is the way to go. With 37 shades available, chances are you'll find your match.
IGK— Ombre Color Spray
Whether you are looking for something bold to hit the festivals (Sutro) or in need of some highlights for a multidimensional summer feel (Amaro) these gone-in-one-wash transfer-resistant products are the ultimate picks for some timely hair fun.
Manic Panic
Introducing the cult classic of all deep vibrant colours. Available in every possible shade under the sun, or should we say of the rainbow, this creamy vegan product lets you go crazy for weeks at a time on bleached or natural hair.
Dp Hue—Gloss +
Dp Hue's Gloss + offers a colour boost in shampoo form. The product adds shine and a subtle hue to natural or coloured hair while deep conditioning, all in the space of a shower. The shampoo is available in 11 different shades and should be used to enhance or darken hair.
Go bold or make a subtle transformation while saving money and allowing yourself to change your mind. From a one-day affair to months-long changes, semi-permanent hair dyes allow you to experiment without having to commit. Which is a good thing, because change is a great thing, at least when it comes to hairstyles.
---
Cover credit: Tore F | Unsplash