Buttery skin is the newest makeup trend for a next level glow
Glowing skin can be achieved with butter. Kidding. Sort of.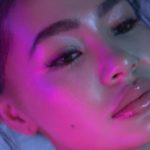 Long gone are the days when matte, shine-free makeup was the norm. Today, it's all about the healthy glow, the 'lit from within' makeup that creates a youthful look. People want a more natural look that mimics a great après workout or a day spent at the beach. Buttery skin is the newest makeup trend that promises a butter-like glow (fat-free, of course). Read on to discover how to create this trendy beauty look.
Advertisements
What is "Buttery Skin"?
Don't worry, your butter stays in the kitchen. You can thank Isabelle De Vries, an Australian makeup artist, for creating the buttery skin makeup look. Unlike yoga skin or the glass skin beauty craze, buttery skin is more about the makeup than the skincare routine carried out beforehand. The goal of this makeup technique is to create a glowing and flawless sheen on your face that resembles actual butter (but don't worry, there isn't any actual butter involved in this look).
Advertisements
The steps to accomplish the look
Skincare
Start by washing your face, removing all of yesterday's makeup and then massage your favourite creamy moisturizer into your skin and wait a few minutes before applying your makeup. If you have very dry skin, you can also achieve this look but you'll need to put a bit more effort during your skin prep. Apply a hydrating sheet mask before you add your face cream. After, add an illuminating primer and make sure you add more on the highest points of your face.
Foundation
This is not the time to whip out your extra matte foundation. A dewy, glowy foundation is a must for this look. Mix your foundation with a liquid highlighter. Use your fingers to press the foundation into your skin. You can warm up your hands beforehand since warmth creates a nicer finish.
Finish
Remember to use cream or liquid formulas for your blush, concealer, highlighter, eyeshadow and lipstick so all your features glimmer and shine. Blend everything with your fingers so there aren't any apparent lines. To complete the look, De Vires recommends using a wet balm or glow illuminators on your eyelids and cheekbones for an intense glow.
Beauty trends are so much fun to try and require absolutely no long-term commitment. Enjoy experimenting and trying out the buttery skin makeup technique for your next girls night out or at-home selfie photoshoot.
---
Cover photo: Aiony Haust | Unsplash