How to exfoliate your face: 5 easy steps to radiant skin
Do you want to make exfoliation part of your routine? Here is how to achieve this beauty treatment in 5 simple steps.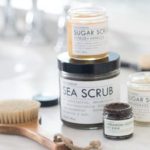 Taking care of the skin on your face is essential. This is, after all, the first thing people see when they meet you. You probably already have a moisturizing day cream and a facial cleanser in your pharmacy. Why not add a facial scrub too? This ensures that you have beautiful, healthy, radiant skin by removing blackheads and other impurities. Here are some steps to follow to complete your exfoliation session.
Advertisements
Make sure you have the right facial scrub in your pharmacy
The first thing to do is to make sure you choose a product that is right for your skin type. People with sensitive skin will not choose the same product as those with combination or oily skin.
Sensitive skin and dry skin: Look for an enzyme-based scrub (AHA or salicylic acid). This type of scrub is called chemical exfoliation. You can remove impurities from the skin and remove dead cells without rubbing.
Normal skin, combination skin, and oily skin: Choose a grainy scrub, also called a mechanical scrub. You will be able to remove dead skin by gently rubbing the skin.
It is obviously important to get an exfoliant made for the face and not for the body, at the risk of ending up with blemishes and red patches on the skin!
Advertisements
Avoid exfoliating your face too often
Another thing to know: avoid exfoliating your face too often. This small action could worsen the appearance of your skin instead of improving it (this can lead to acne flare-ups, for example). You should exfoliate your skin every two weeks if your skin is sensitive and once a week if you have combination or oily skin.
Advertisements
Exfoliate your skin at the right time
It is better not to exfoliate your skin at certain times if you want to have a radiant complexion. In fact, some moments are more appropriate than others for this small beauty gesture. The best is to exfoliate your face in the evening, before bedtime. This gives the skin cells time to regenerate during the night.
Advertisements
Apply your facial exfoliant in the right way
It's not just about applying your exfoliant at the right time, you still need to apply it in the right way.
Enzyme-based scrub: Apply the scrub, leave it to rest for about ten minutes and rinse or remove the product with a cotton pad.
Grain scrub: After cleansing your face, apply a dab of the product to your wet skin. Massage gently in circular motions from the middle of your face to the circumference and rinse your face.
Hydrate your face with a nourishing cream
Once you have exfoliated your skin, don't forget to apply a cream or serum to activate cell renewal.
As you can see, exfoliating the skin on her face is very simple and requires a minimum of effort. However, it is important to follow certain steps in the right order to avoid aggressing your skin during this beauty ritual. In addition, you can also get a body scrub.
---
Cover photo: @figandyarrow | Instagram