Night creams that work while you enjoy your beauty sleep
A beauty sleep regimen worth every penny!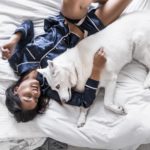 We are always trying to find ways to stop time, to look forever youthful. Radical procedures like PRP injections or microneedling are options for some but most of us would rather stay far away from needles and blood. Make your skin brighter and your life easier by integrating one of these night creams into your skincare routine.
Advertisements
What does your night cream actually do?
Our skin constantly protects itself from the makeup we slather on our face, the pollution outside, the dryness inside, and the bright and damaging sun. Nighttime is the only moment our skin can finally renew itself and enjoy a little break from the exterior elements and concentrate on repairing the skin. Applying a night cream after you've removed your makeup and washed your face will help renew your cells, add a boost of hydration to your tired and dull skin and accelerate the production of collagen, creating a plumping effect in the morning. Because your skin is warmer at night, it is able to absorb more of the active ingredients in creams.
Advertisements
The difference between your day and night cream
"Why not just wear your favourite day moisturizer at night?" some might ask. Well, we're glad you did ask because no, you shouldn't wear the same cream both in the day and at night. First of all, you don't need any SPF in your night cream (for obvious reasons, i.e. the lack of actual sun). Apart from the SPF, the main reason you should have both a day and a night cream is that your day cream is meant to protect your skin while your night cream is meant to repair and restore it.
Advertisements
Our favourite small budget night creams
These are some drugstore MVPs that can be found pretty much anywhere and won't leave you with a hole in your skincare and beauty budget.
CeraVe
Great for acne prone, dry or oily skin, CeraVe's Facial Moisturizing Lotion is hydrating but doesn't clog your pores leaving your skin restored and healthy looking in the morning.
No 7
No 7's Lift & Luminate line of night creams is said to reduce the appearance of wrinkles, even skin tone and add firmness to the skin. Mature women will appreciate how smooth and bright their skin looks.
Olay
Another notable anti-ageing cream, Olay's Micro-Sculpting Cream from their Regenerist line plumps the skin to reduce signs of ageing like wrinkles and fine lines.
Neutrogena
Formulated with retinol, Neutrogena's Rapid Wrinkle Repair night cream boosts the skin with its high concentration of retinol. Accelerating collagen production, retinol is a nighttime skincare must.
Advertisements
Our favourite big budget night creams
If, on the other hand, your wallet can take the heat, splurge on these luxurious night creams.
Herbivore
Packed with antioxidants, Shea Butter and hyaluronic acid, Moon Fruit won't clog your pores or perturb your skin. As always, Herbivore's products are vegan, natural and cruelty-free.
Augustinus Bader
Augustinus Bader's The Rich Cream is extremely luxurious and hydrating. The price might scare a few but know that it will replenish and soothe your skin for a radiant wake up call especially in the winter.
Verso
For younger looking skin, add Verso's Night Cream to your nighttime skincare routine. Retinol 8 is supposed to be eight times more effective than retinol for a more rejuvenated look.
Clarins
If you tend to enjoy late nights dancing with friends instead of sleeping a solid 8 hours, Clarins' Multi-Active Night Cream should help fake a good night's sleep. Goodbye fine lines, hello radiance.
Fall asleep knowing you are taking good care of your skin thanks to these moisturizing and replenishing creams. Remember that retinol is a key ingredient in most moisturizers for plump and bright skin once the birds sing and the sun comes up.
---
Cover photo: Kristina Petrick | Unsplash