Summer beach outfits to turn up the heat
We feel a heat wave coming.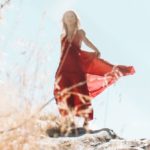 You've bought a few cute bikinis and one-piece bathing suits for your summer beach vacation but you now need to match your bathing suit with a fashionable summer beach outfit because the bikini-at-lunch-look is not something we recommend. Split, Bali, Miami, Rio de Janeiro, Antigua… your neighbourhood beach, you want to look as good on your way to the beach as when you're catching some rays and tanning in your bikini. Get inspired by these fashionable and easy to recreate summer beach outfits from women who know how to make the beach their own personal runway.
Advertisements
Labor Day look
Your last chance to wear all white without people scolding you when you wear white after Labor Day.
Advertisements
Island gal
A beautiful long skirt and a bandeau swim top look is beach restaurant appropriate.
Advertisements
The summer version of a jumpsuit
A classic beachwear item, a romper is effortless and casual no matter the beach.
Advertisements
Light as air
Is the sun your enemy? Avoid sunburns with this artful caftan.
Wearing bermudas in Bermuda
Comfy, casual and light, this summer beach outfit won't ever let you down.
(Baby) doll goes to the beach
Airy and feminine, this babydoll dress can be rocked day or night with Birkenstock or platform sandals.
Feel the breeze
Maxi dresses can take you from the beach to the club. Just remember to switch your flip flips for dance-inducing shoes.
Cutting you off
Too hot to even wear a shirt? Just pair your one-piece bathing suit with your favourite cut-off shorts.
Wrap it up
Just like a towel, a wrap dress will wrap you up and keep you cozy after jumping in the cool water.
See through me
A summer beach outfit doesn't mean you need to hide your summer body!
The beach is your runway
Have a date at the beach? A matching crop top and midi skirt will make a splash.
Keep cool
Anything in linen is a great summer beach outfit since this textile keeps you cool in humid and hot weather.
Life is too short to wear anything boring
Flowy shorts and your bikini top is the perfect outfit to flirt with the local surfers.
Sporty Spice
Back from a run on the beach (or you just want to look like you are)? Impress the boys with a muscle tank and running shorts.
My office is the beach
Love the Katharine Hepburn trouser look? Take it to the beach for a corporate meets beachwear look.
From dresses to denim shorts, your summer beach outfits can be casual, sporty, chic and tailored. Your summer wardrobe is your oyster.
---
Cover photo: Kyle Johnson | Unsplash