15 cute swimwear brands to consider for your beach vacation
Going on a beach vacation for the holidays? Forget about bringing an old and ratty bathing suit, check out these 15 swimwear brands to look #flawless.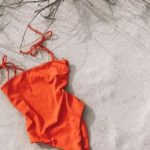 A beach vacation is perfect for relaxing, soaking up the sun and taking life one margarita at a time. Whether you're flying off to the Caribbean, to Europe or to Australia, you know you'll need to pack a few bathing suits in your suitcase. You obviously want to look good when you're at the beach so forget about packing your old and shabby bathing suits you have been wearing since high school. Instead, why not explore the world wide web and take a look at international swimwear brands that offer spectacular bathing suits for every type of woman. Sporty, bohemian, elegant, exotic, trendy and minimalist shoppers will find a bathing suit that perfectly fits their style. Once you've chosen your new suit, you'll feel like a real #beachbabe and extra confident.
Advertisements
Eres
Fan of luxury, beautiful soft buttery materials and exquisite cuts? Eres, although on the expensive side, is worth the splurge. Choose between classic and solid coloured bikinis, one-piece suits and beachwear for your next French Riviera voyage. This brand is for the woman who wants to look polished and sophisticated during her vacation. Eres is sold around the world and on various international websites.
Advertisements
Solid & Striped
Popular with instababes, models and the young and beautiful, Solid & Striped is fun, flirty and full of colours. Choose between velvet, ruffle, rib, stripes, turtleneck, rash guard, etc. suits in any colour of the rainbow. You are sure to get compliments while wearing one of their suits.
Advertisements
Rye
Rye, from Australia, is the perfect swimwear brand for the whimsical and colour-obsessed woman. You'll love the high-waisted bottoms, multi-coloured polka dot pieces and the laser cut ruffled trims. The suits will look superb against a scenic Caribbean backdrop. Rye ships worldwide.
Advertisements
Zimmermann
Another Australian swimwear brand, Zimmermann is for the romantic English rose who loves pastel hues, flowers and elegant cuts. They also have beautiful beachwear pieces like full skirts and flowy tops so you'll look as good in the water as on your night out on the luxurious St Barths island.
Mara Hoffman
Minimalist, artful and flattering, Mara Hoffman creates incredible designer swim pieces. If you're the kind of woman who wants a no-fuss bathing suit that is simple but beautiful then you'll find exactly what you're looking for on this website. We especially love that the suits are made in the United States and that most bathing suits contain an SPF 50.
Hunza G
Its incredible and unique thick seersucker stretch fabric that resembles a knitted bathing suit makes Hunza G the ultimate 80s cool girl brand. One size fits all (from sizes 6-14), these bathing suits are handmade in London so you know the quality will be excellent. Those who like marching to the beat of their own drum will love the texture and uniqueness of these suits but know that this brand is still minimalistic and classic with its colour choice and cuts.
Skye & Staghorn
This Australian swimwear brand by Western Australian native Dakota Gilbert is filled with bold designs and luxurious materials. Skye & Staghorn offers a mix of bikinis and one-pieces in custom prints and materials like beads. You will fall in love with all her bathing suits. We can just imagine ourselves in Corsica, about to plunge into the turquoise Mediterranean Sea with a Skye & Staghorn suit. Let's be honest, Australians know how to make great bathing suits since they are practically born in the water.
Lisa Marie Fernandez
Old-fashioned and glamorous with a bond girl twist, Lisa Marie Fernandez's swimwear brand perfectly encompasses the modern femme fatale. High-waisted culottes, girly tops, polka dots, pastel colours and playful cuts, you'll not only feel great when wearing these suits in the water but you'll also feel like wearing these suits on the streets! You can find Lisa Marie Fernandez's suits on her website and on online retail stores.
Lido
Inspired by a Venetian island, this swim line is perfect for the minimalist woman who wants to combine style, comfort and quality. Made with eco-friendly Italian lycra, Lido makes swimsuits you can wear while devouring a novel or while doing laps in the open ocean. With the classic cuts, earth tones and simple suits, you might not stand out at the beach but at least you won't be replacing your suit everytime a wave crashes into you. Lido ships worldwide.
Vitamin A
Vitamin A has been around since 2000 and stands out from the crowd with its West Coast vibe and feminine designs. Committed to innovation and sustainability, the bathing suits are designed and made in California and are all made with the EcoLux fabric, a fabric made from recycled nylon. If you're going on a California road trip, you should definitely check out Vitamin A. Sustainability has never been so easy.
Frankies Bikinis
Love to make a splash and be the centre of attention? Make heads turn with Frankies Bikinis! These Instagram worthy bikinis and one-pieces are loved by celebrities like Kylie Jenner, Alessandra Ambrosio and Gigi Hadid. These swimsuits are perfect for the fashion-forward woman who enjoys playing with textures, colours and shapes. Sexy cheeky bottoms and cut-out tops in bold and bright colours are the ultimate Frankies Bikinis signature touch.
She Made Me
Boho, free-spirited and timeless, She Made Me's crochet bathing suits are totally unique. This Australian brand's goal is to create handcrafted and beautiful pieces that women will wear with confidence. Fans of adventure and distant lands like Bali and Morocco will appreciate the intricate designs of these delicate but flattering bathing suits. Bikinis, halter one-pieces and beachwear pieces, She Made Me's selection of swimwear is for the inner-artist.
Agua De Coco
Brazilians know a thing or two about bathing suits since they practically live in them 24/7 and Agua De Coco is the ultimate Brazilian swimwear line. Filled with sexy cuts, bold colours and patterns, these bathing suits will easily take you from the beach to the discotheque. The designer, Liana Tomaz, has created bathing suits with incredible durability and quality for women who love to look playful, seductive and cute.
Her Line
The modern woman doesn't necessarily want frills and bows on her bathing suit. She wants to wear it at the beach but also at her local indoor pool for her morning workout. Her Line, founded in 2014, is a modern and effortless brand perfect for those who are always looking for timeless and quality swimwear. Neutral and toned-down colours, basic and sporty cuts, Her Line's suits are made in Italy, have a 50+ UV protection and are made from the softest lycra.
Jade Swimwear
A little bit edgy but with feminine and versatile silhouettes, Jade Swim is for the fashion insiders from New York to LA. Made with sustainable Italian fabrics and resistant to chlorine and sunscreen, these swimsuits sculpt the body perfectly to create a stunning shape. You'll find high cut one-pieces and minimal bikinis in various solid colours on their website. Don't be surprised if you notice this celebrity-approved brand on everyone on your next trip to Ibiza or Lake Como.
If you are still reading this and not about to place your order for a swimsuit from one of these swimwear brands then what are you waiting for? From cheeky bikinis to minimalist and glamorous suits, all that's left for you is to choose which one best represents your beach style. With your new bikini (or 3 or 4…), it will be impossible for you to have a bad time on your next beach vacation!
---
Cover photo: skyeandstaghorn/Instagram