The best body wipe brands or how to keep fresh on-the-go
Freshen up without water and on-the-go in a second by always keeping these body wipes on hand.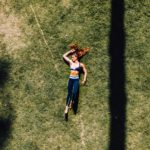 It seems that all the love these days is directed towards the often lifesaving face wipe while its little sister, the body wipe, is not granted the recognition it deserves. Yet, she does it all: freshens you up after a good workout when there is no shower in sight, keeps you cool on a particularly hot day, helps you save time when in a hurry and in need of a quick wash and spares you the liquid limitations of boarding a flight with the bonus of a quick mid-flight clean up in the washroom. All that while taking up minimum space in your makeup bag/gym bag/carry on. Never thought you would jump on a concept you already knew existed? Here are some of our favourite brands to throw in your bag to take on the day.
Advertisements
Yuni
Worried about the ecological aspect of using wipes (as you should)? One of these natural body wipes designed for a mindful active lifestyle is large enough for a full body clean and, best of all, are biodegradable.
Advertisements
GoodWipes
Take the shower with you with these flushable, eco-friendly and oh so convenient individually packed wipes.
Advertisements
Dove Baby
If it's good enough for baby, it's good enough for mommy… And other adults that are not moms.
Advertisements
Herban Essentials
These adorable cruelty-free towelettes come in the essences of orange, lemon, eucalyptus, lavender and peppermint. They are often used to kills germs on hands, but since these therapeutic wipes are made from 100% pure high-quality essential oils, they are absolutely fit for your whole body.
Busy Beauty
The name kind of says it all.
Bliss
These lemon and sage refreshing body wipes contain natural deodorant but no sticky residue effect for an instant feeling of freshness.
Acure
Acure believes in the power of purity, this is why they allow you to feel fresh and uplifted at all time with their do-it-all – from removing makeup and environmental toxins to cleaning dirt – coconut towelettes.
The Honest Co.
These are also technically baby-centric wipes. These durable hypoallergenic wipes made from over 99% water from Jessica Alba's transparent company is a great choice for your own personal needs. Besides, their packaging is pretty great.
Clinique
With their Fit line, Clinique supports your active life. It also supports your post-workouts well-being by offering face + body wipes to keep in your gym bag at all time and use in and out of the gym.
Yes To
Make freshening up an exotic affair with these Yes To Coconut cleansing wipes that will also keep your skin moisturized.
Whether you were already an avid body wipes user or just discovered that what you thought was reserved for babies' bums can also make your grown women's life a lot easier and fresh, make sure to use only the best on your skin when it comes to cleansing sans water and on-the-go.
---
Cover credit: Gerson Repreza | Unsplash