Delicious low-carb recipes for dinners filled with goodness
Low-carb eating has had a bad rep with foodies but these low carb recipes will change your mind.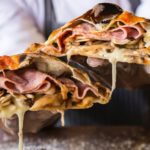 Eating low-carb, whether you want to lose weight, follow a keto diet, or for health reasons can seem nearly impossible if pizza, pasta, bread and other high carb foods are your go-to meals. News flash! Low-carb doesn't mean dull nor bland. Don't believe us? Try these low-carb recipes below and see for yourself.
Advertisements
Stuffed mushrooms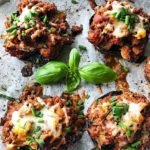 Stuffed to the brim with meat and veggies, these mushrooms are keto-friendly and absolutely delicious.
Advertisements
Fish taco bowls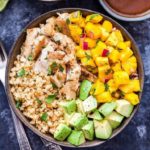 Fish taco bowls would usually not be included in this list but since this recipe is made with cauliflower rice, which has much fewer carbs than regular rice, it gets a pot on the list. Add your favourite toppings like avocado, mango, grilled chicken or salmon for a personalized bowl.
Advertisements
Spinach and sausage quiche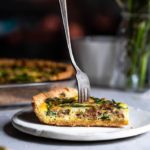 Quiche doesn't usually rhyme with low-carb but this one is made with an almond flour crust so it's an exception to the rule. Perfect for a quick weeknight dinner, this spinach and sausage quiche has your name written all over it.
Advertisements
Butter chicken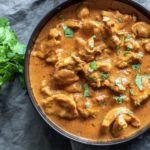 Tender chicken soaked in a creamy and spicy sauce makes the perfect comfort food. Unfortunately, you'll have to skip the naan but be adventurous and try a side of cauliflower rice, zoodles or even roasted squash as your side dish.
Shrimp scampi with zoodles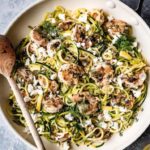 Zoodles are a great alternative to pasta. Two cups of pasta has about 90 grams of carbs and zucchini noodles only have 12 grams of carbs. Spaghetti squash is also a great alternative to pasta.
Calzone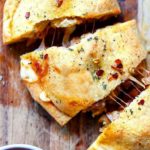 This keto calzone is filled with sausage, onions and cheese but you can add whatever meat and vegetables you like. Almond flour is the secret ingredient that makes this calzone low-carb and guilt-free.
Pizza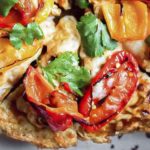 Gluten-free, (very) low in carbs but extremely delicious, this pizza recipe will be the ideal Friday night dinner. What makes this pizza low-carb? The chicken crust, made with ground chicken, eggs and seasonings.
Pad Thai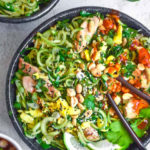 Low carb pad thai is anything but boring. Replace the pasta for zoodles to make this dish low carb but still very delicious. The tangy sauce, chicken, eggs and crunchy peanuts have what it takes to make this recipe a weekly go-to meal.
Pan seared salmon with creamy garlic Dijon sauce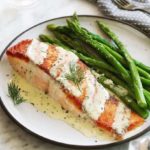 A delicious and nutritious fish option for those trying to reduce their carb intake. A creamy sauce, tangy Dijon mustard, and some healthy fats from the salmon make this recipe a must-try.
Zucchini enchiladas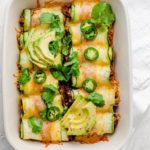 What's for dinner tonight? Tex-Mex zucchini enchiladas even the picky boyfriend will devour. Switch the usual corn tortillas for peeled zucchini to wrap around the chicken mixture. Add tons of cheese, avocado and cilantro for an (almost) guilt-free Saturday night dinner with friends.
Low-carb cooking is not so boring anymore! These recipes are satisfying, easy to follow and most importantly, appetizing. Pasta, bread, cereal, you don't need that negativity in your life.